106 dead in new Homs, Syria massacre, report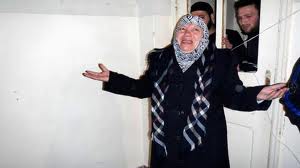 More than 100 people were shot, stabbed and possibly burned to death in the Syrian city of Homs this week, in what a monitoring group said was a massacre by the army or militia loyal to Bashar al-Assad.
The British-based Syrian Observatory for Human Rights said women and children were among the 106 people killed by forces who stormed Basatin al-Hasawiya, an impoverished district on the edge of town. The claim could not be independently confirmed due to reporting restrictions in Syria.
"The Observatory has the names of 14 members of one family, including three children, and information on other families who were completely killed, including one of 32 people," said Rami Abdelrahman, head of the monitoring group.
"This needs to be investigated by the United Nations," said Abdelrahman, a Syrian who has documented human rights violations in Syria since 2006 and now reports on killings by both sides of the 22-month-old conflict.
In May 2011 Homs province was the scene of the killing of 108 people, including nine children and 34 women, in the town of Houla, which UN monitors blamed on the army and pro-Assad militia.
Homs saw some of the biggest anti-Assad protests at the start of the revolt, and heavy bombardment levelled whole neighbourhoods and killed thousands of people as the army attacked rebels who moved into the city.
The United Nations sent observers to Syria in April 2011 but after several attacks on their convoys they left in August, complaining that both sides had chosen the path of war.
Abu Yazen, an opposition activist in Homs, said the rebel Free Syria Army occasionally entered the farmlands of Basatin al-Hasawiya to attack a nearby military academy. "Assad's forces punish civilians for allowing the rebels to enter the area," he said.
Another activist said it was unclear which group carried out the attack, but said some of the victims appeared to have been burnt after they were killed – something the opposition says is often done by the pro-Assad Shabiha militia. However, many houses had been torched during the raid, which could also explain the burnt bodies.
The Shabiha are drawn largely from Assad's minority Alawite sect, an offshoot of Shia Islam. Homs has seen some of the worst sectarian violence between Alawites and other minorities and Syria's majority Sunni Muslim population, who are leading the uprising.
Guardian