US defense chief to Pope Benedict: 'Pray for me'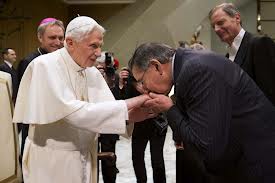 US Defense Secretary Leon E. Panetta took a break Wednesday from war planning and leading the world's most powerful military to pay his respects to Pope Benedict XVI, a champion of peace.
Panetta, an observant Catholic who proudly wears his Italian American heritage on his sleeve, beamed as he sat in a front row reserved for VIPs during the pope's weekly general audience in a Vatican auditorium.
After listening to a papal address in several languages, Panetta and three of his military aides lined up, along with dozens of other Catholics, to meet Benedict and receive his blessing.
Afterward, Panetta said the pontiff told him, "Thank you for helping to keep the world safe."
The Pentagon chief said he replied, "Pray for me."
Panetta's aides said it was his third papal audience. The first took place when he came to Rome as President Bill Clinton's chief of staff and met with Pope John Paul II. He met with John Paul again when the pope visited Washington.
Panetta, 74, is visiting European capitals to meet with NATO allies during what he has said is "likely" to be his last international trip as defense secretary. President Obama hasnominated former senator Chuck Hagel (R-Neb.) to succeed Panetta at the Pentagon.
It is the secretary's second visit to Italy since he took up his post in July 2011. Three months into the job, he stopped briefly in Naples to meet with NATO military commanders. But Panetta first came to Italy as a teenager in the 1950s, when he visited with his parents — who had both emigrated from southern Italy and later settled near Monterey, Calif., where they ran an Italian restaurant.
In 2011, while meeting with U.S. troops in Italy, he cracked wise about the United States' covert drone program, and then, on a more serious note, explained how his family history influenced his decision to enter public service.
"I used to ask my parents, 'Why did you make the decision to travel all those miles to come to a strange country?' " he told the troops. "They had very little money. They had very little education. They had very few skills. No language ability. And suddenly pick up, leave the comfort of family — obviously a poor area in Italy at the time — but pick up and go all that way to a strange country. Why would you do that?
"My father said the reason that they did it was because he and my mother believed that they could give their children a better life in America. And I think that's the American dream."
Washington Post