Assad's UN rep: Al Arabiya directing terrorist activities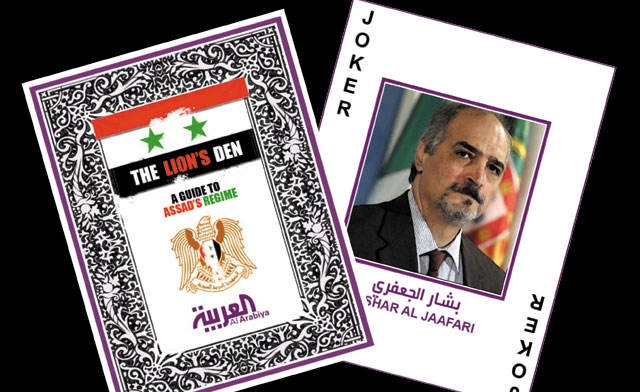 Syria's delegate to the United Nations, Bashar al Ja'afari, accused Al Arabiya News of orchestrating terrorist activities in his country on Tuesday.
He aired his opinion at a meeting of the U.N. Security Council and accused the media of supporting subversive groups in the country.
"Al Arabiya channel which is considered the operations room that directs these terror actions, this channel broadcast news of this act before it happened and considered it a blow by terrorist groups in Syria against the regime, this is what we mean by media cover and support given to terror and armed groups in Syria."
Ja'afari extended his accusations beyond the media and condemned country leaders in the region for their support of, what he terms, terrorist organizations operating in Syria. He claims that leaders offer training and finance to such sub-state groups.
Meanwhile, Ja'afari condemned a recent attack that struck the Aleppo University of Civil Engineer and Architecture campus on Tuesday killing 82 students and wounding 162 others while attending their mid-year exams.
Protests against the government have been known to take place at the university. Prior to the escalation of violence in the province of Aleppo in July 2012, the regime's forces invaded the grounds of the university and shot, killed, tortured, and detained students.
State television described the university blast, which lies in government-controlled territory, as a "terrorist attack."
Ja'afari is known to play the role of a Spin Doctor when presenting foreign media views on Syria. He holds a joker card in Al Arabiya's latest "The Lion's Den".
Ja'afari previously accused Saudi Arabian and Qatari media of directing death threats and personal attacks towards his family members.
"Saudi and Qatari media are no longer satisfied with targeting my country but have targeted me personally and members my family in an immoral way, an unethical way and a shameful way," Ja'afari told the 193-member U.N. assembly before the Saudi-sponsored resolution was passed.
He claims that entire television programs, aired by the two countries, were based on "fabricated lies and false statements to distort the reputation of members of my family."
Sheherazad, Bashar Ja'afari's daughter, was the PR advisor to al-Assad himself. In leaked emails previously published by Al Arabiya, it was revealed that Sheherazad almost single handedly arranged for the well-known American journalist Barbara Walters to secure an interview with the president in December 2011.
She was an intern in 2011 at international public relations firm Brown Lloyd James (BLJ) in New York, which counted the Syrian government among its client list. The company offered advice on strategy for handling and improving the public image of the regime as it escalated its violent crackdown on protesters. Sheherazad recently left BLJ to work at the Syrian presidential palace, where she handled Western media for Assad.
Al Arabiya
Photo: Syria's U.N. envoy Bashar al-Ja'afari, renowned for twisting news of the ongoing crisis, holds a joker card in Al Arabiya's "The Lion's Den" guide to what is left of the Assad's regime. His daughter, Shahrezad , who currently resides in the U.S. and was a PR advisor for Assad himself, also holds a place in the deck.