Lebanon judge to question Syrians over terror plot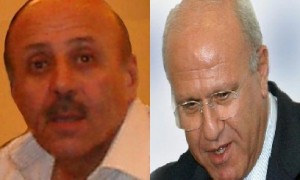 Investigative Judge Riad Abu Ghaida set Feb. 4 , 2013 as the date for questioning General Ali Mamlouk – the chief of Syrian national security and Syrian Col. Adnan, whose last name is not known for their alleged role in a plot to carry out terrorist attacks in Lebanon, judicial sources said Monday.
Abu Ghaida also set Jan. 28 as a hearing date for police informer Milad Kfouri.
Mamlouk became a household name in Lebanon after Lebanon's Internal Security Forces discovered last August explosives that were transported from Syria by former Minister Michel Samaha.
Mamlouk reportedly supplied the explosives to Samaha.
Lebanese judicial authorities have charged Samaha and Mamlouk with forming a group to commit terrorist crimes in Lebanon.
The evidence of Samaha terrorist plot seems overwhelming, and the former minister appears to have confessed on tape to plotting to target Christian leaders with the aim of blaming Sunni extremists and cementing the Christian community's support for Assad's supposedly secular regime.
According to Lebanese security sources, when asked why he would do such a thing, the former minister replied, "This is what Bashar wants." In a possible reference to the embattled Syrian president Bashar al Assad.