Hout: Unrest in Syria has a big impact on MEA profits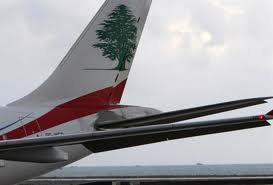 The chairman of Lebanon's flag carrier Middle East Airlines Sunday voiced concerns that the ongoing conflict in Syria, and internal divisions over the new electoral law, could impact the company's profits further in 2013. "We hope that 2013 will not be the most difficult for MEA because the situation is not comforting. What is happening in Syria has a big impact on us," Mohammad Hout said during a ceremony honoring members of the MEA board.
Hout said last month he expected the company to post flat profits in 2012 in spite of a sharp drop in the number of tourists.
"Operating profits declined recently from between $90 to $100 million to less than $40 million and this remains a major concern," he added referring to the decline in MEA profits in 2011.
Hout said MEA recently hired a consultancy firm to study strategies needed to avert further decline in profits, adding that creating a low-cost subsidiary is on the table.
"They will study whether it would be best to continue on the same track or create a low-cost carrier as well as other options," he said.
He said MEA would not hire more people in 2013, arguing that the priority was set at preserving the sustainability of current jobs.
Hout said an under-construction pilot training center would seek to reestablish Beirut as a hub for civil aviation training.
"The future of MEA remains promising and we will be able to increase our competitiveness," he added.
MEA has recently signed an agreement with giant aircraft producer Airbus to acquire 10 new Airbus planes to boost the company's fleet.
Hout believes that the company needs to expand the fleet in the future despite the difficult conditions in Lebanon and the region.
The sharp fall in the number of Arab tourists has gravely affected the profitability of MEA this year although the number of Lebanese passengers remained firm.
Daily Star