Russia wants to offer aid to Syrian refugees in Lebanon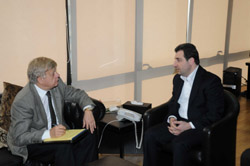 Russia , Syria's key ally in its 21 month crackdown against the uprising that resulted in the mass exodus of Syrian refugees to Lebanon, Jordan, Iraq and Turkey is reportedly offering to provide aid for the refugees.
Russia's envoy to Lebanon said on Monday that his country would help the Lebanese Social Affairs Ministry provide aid for Syrian refugees by establishing field hospitals in the country.
"I reviewed the plan prepared by the Lebanese cabinet to offer aid for Syrian refugees, and I think we can help by [establishing] field hospitals in Lebanon," Alexander Zasypkin said following his meeting with Social Affairs Minister Wael Abu Faour.