Cyprus, Lebanon agree to boost oil, gas cooperation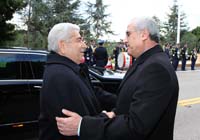 Cyprus and Lebanon agreed to boost cooperation and look into ways to explore gas and oil in their waters, President Michel Sleiman said Thursday.
"We have given the issue of the gas and oil available in our water top priority and agreed to increase cooperation to agree on principles and sound means that would allow us to extract this resource," Sleiman said during a joint news conference with Cypriot President Demetris Christofias.
The Cypriot official's visit is aimed at discussing the demarcation of maritime borders in an attempt to reach an agreement over the Exclusive Economic Zone between Cyprus, Lebanon and Israel.
Beirut and Tel Aviv both lay claim to a disputed area that spans some 850 square km area off the coast between the two countries.
Cyprus has signed delineation agreements with Israel, Egypt and Lebanon but the latter deal is still on hold.
Lebanon argues that the Israeli-Cypriot bilateral agreement signed in 2010 and ratified in 2011 conflicts with the United Nations Convention on the Law of the Sea and demands its amendment.
Under the agreement, Israel's Exclusive Economic Zone boundary with Cyprus begins at point 1, 17 kilometers northeast of point 23, which marks Lebanon's proposed maritime border with Israel in its 2007 EEZ with Cyprus.
During the news conference, Sleiman added that he also agreed with his Cypriot counterpart to increase cooperation in other economic, political, and social fields in order to benefit from each country's expertise.
"We have signed memorandums of understanding between the Lebanese and Cypriot Industry Ministry as well as the two Tourism Ministries and the Ministries of Defense in terms of military cooperation," Sleiman said.
The Lebanese president also spoke about the situation in Syria and the high number of refugees in the country that "has become a real challenge."
"It is important to unite diplomatic efforts to bring about a diplomatic solution to Syria … that allows the return of thousands of Syrian refugees to their home with dignity and security," he said.
"The growing number of refugees has become a real challenge that requires an urgent solution that entails joint responsibility in carrying the burden and sharing the cost," he said.
Following the welcoming reception at Baabda Palace and the meeting with Sleimam, Christofias, who arrived in Beirut Wednesday night, planted a tree of friendship in the presidential palace garden.
Daily Star