Car explosion in Tel Aviv injures 7 to 10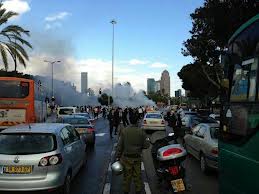 A car bomb has gone off in Tel Aviv, injuring several people, according to local media reports.
The explosion, apparently detonated by a motorcyclist, went off in the old north part of the city, Haaretz reported on its website.
Haaretz reported that the initial findings suggest the blast may be linked to criminal rather than terrorist activity, and that it may be an assassination attempt on "known mobster Nissim Alperon."
Police spokesman Micky Rosenfeld told the Associated Press he also believed the explosion near a bus was criminally motivated, though he could not definitively rule out that it was political violence.
Rescue services spokesman Zaki Heller told the AP preliminary reports from the scene indicated seven to 10 people were wounded in the explosion.
AP