Hagel Nomination is causing jitters in Israel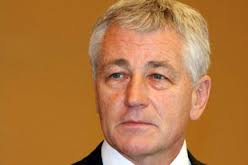 President Barack Obama's nomination of Chuck Hagel as the next U.S. secretary of defense is causing jitters in Israel, where some circles view the former Nebraska senator as unsympathetic or even hostile.
Hagel's positions on Israel's two most pressing foreign policy issues — Iran's nuclear program and relations with the Palestinians — appear to be at odds with the Israeli government, and critics here fear the appointment could increase pressure on the Jewish state to make unwanted concessions. The appointment could also signal further strains in what is already a cool relationship between President Barack Obama and Israeli Prime Minister Benjamin Netanyahu, who is expected to win re-election later this month.
"Because of his statements in the past, and his stance toward Israel, we are worried," Reuven Rivlin, the speaker of the Israeli parliament and a member of Netanyahu's Likud Party, told The Associated Press. But, he added, the strategic partnership between the U.S. and Israel is strong and "one person doesn't determine policy."
Netanyahu's office refused to comment on the appointment, as did officials in the Israeli foreign and defense ministries. But Rivlin's comments reflected what has been a common sentiment among analysts and commentators here in recent days. In their evening news broadcasts, Israel's three main TV stations on Monday all portrayed Hagel as cool toward Israel.
Known as a maverick in the Senate, Hagel has raised eyebrows in Israel with a series of comments and actions over the years that some here have deemed insufficiently supportive of the Jewish state.
Hagel once said "the Jewish lobby (in the United States) intimidates a lot of people here" and does some "dumb things" that aren't "smart for Israel." He also said that "I'm not an Israeli senator. I'm a United States senator."
"I support Israel, but my first interest is I take an oath of office to the Constitution of the United States, not to a president, not to a party, not to Israel," he said.
Six years ago, he refused to sign a letter pressing the European Union to declare the Lebanese Hezbollah guerrilla group a terrorist organization.
Hagel's call in a bipartisan letter in 2009 for a 'pragmatic' approach toward Hamas, the Palestinian militant group that rules the Gaza Strip, has also drawn criticism. The letter called for engaging Hamas to moderate its behavior, though it said direct U.S. engagement "may not now be practical." Critics, pointing to the letter, have accused Hagel of supporting dialogue with Hamas.
The 66-year-old Hagel, who faces a tough confirmation battle in the Senate, also has criticized discussion of a potential military strike by either the U.S. or Israel against Iran, and has backed efforts to bring Tehran to the table for future peace talks in Afghanistan.
While Hagel's positions on these issues are shared by many in Israel itself, including Netanyahu's own critics, they run counter to those of the Israeli prime minister and could antagonize him if, as polls forecast, he wins a new term in Israel's Jan. 22 elections.
Netanyahu has identified the Iranian nuclear program as his top priority. Convinced that the Islamic Republic is trying to develop a nuclear bomb, a view shared in many capitals around the world, Netanyahu says Tehran must be stopped. Iran says its program is only for peaceful purposes.
While voicing hope that international diplomatic pressure will halt the Iranian program, Netanyahu has said that the use of force must be seriously considered as well. Netanyahu has repeatedly threatened to attack Iran, unilaterally if necessary, if he concludes that diplomacy has failed.
Israel also considers Hamas and Hezbollah to be terrorist groups, although it has held indirect cease-fire talks with both organizations. Israel refuses any direct talks with Hamas, which recently battled Israel during eight days of fighting in November, unless the group renounces violence and explicitly recognizes Israel's right to exist.
Ahead of Hagel's appointment, White House officials tried to play down such differences, saying his positions on Israel and Iran have been misrepresented and that he will be "completely in line with the president." They said that in the Senate, he voted in favor of billions of dollars of military assistance to Israel and supported multilateral sanctions on Tehran.
Despite such promises, the Hagel appointment is likely to fuel the common perception in Israel that Obama does not share the warmth toward Israel held by his predecessors.
In part, that impression stems from the relationship between Obama and Netanyahu. The two leaders took office just months apart in early 2009, and from the beginning, have appeared to be at odds both on the personal level and on key policy issues.
The men have sparred over Israeli settlements in the West Bank and east Jerusalem, the borders of a future Palestinian state and the Iranian nuclear program. Last year, Obama rebuffed Netanyahu's calls to set "red lines" that would trigger an attack on Iran. The perception here that Netanyahu favored Mitt Romney in the U.S. presidential election — an allegation denied by Netanyahu — has further strained ties.
The U.S. is Israel's closest and most important ally, and the relationship is critical for Israel. Further cracks in the ties could make for a stormy second term for Netanyahu.
The one area where relations have remained strong is in security ties. The Israeli and American defense establishments cooperate closely in monitoring the Iranians, military training and weapons development. Israel's new "Iron Dome" rocket-defense system, which performed well during the recent fighting in Gaza, was developed with American financial aid.
Speaking at an event for mostly North American Jews in Jerusalem on Monday, Netanyahu thanked the U.S. for its support.
While he did not mention Hagel directly in his speech, Netanyahu he did warn of dangers ahead — including Iran's nuclear program — and said "it is time for many who don't see these dangers to wake up to them."
Eytan Gilboa, a specialist on U.S.-Israel relations at Israel's Bar-Ilan University, said he thinks if Hagel "will be a total disaster for Israel."
He said Obama's choice for CIA director, John Brennan, is considered good for Israel and could be a "stabilizing factor" on U.S. policy toward Israel. But overall, he said Obama's foreign policy team creates a "potential recipe for many problems with Israel."
"Obama is sending a message to Israel that rough times are ahead and if it doesn't accommodate U.S interests, there will be tense relations," he said.
But Dov Weisglass, who served as a top adviser to former Prime Minister Ariel Sharon a decade ago and was involved in sensitive dealings with the Americans, said concerns about Hagel are overblown.
"Ties between countries are not decided by this person or that. The ties between Israel and the U.S. are so important and complex that I don't see any reason why they should change,' Weisglass said, predicting that in his new role, Hagel would, generally speaking, revise his outlook on things.
What's more, "ultimately, he is not the only decision-maker," he said.
Associated Press/ ABC