UN chief: Assad has no real plan to end suffering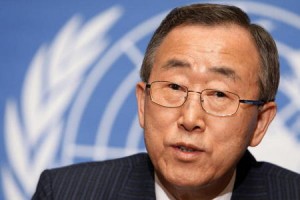 U.N. Secretary-General Ban Ki-moon said Monday that Syrian President Bashar Assad's rejection of the most important elements in an international roadmap to end the country's civil war means Assad has no real plan to end Syrians' "terrible suffering."
Assad dismissed any chance of dialogue with the armed opposition in a speech Sunday and called on Syrians to fight what he called "murderous criminals" responsible for the violence that the U.N. says has killed over 60,000 people.
"The secretary-general was disappointed that the speech … does not contribute to a solution that could end the terrible suffering of the Syrian people," said U.N. spokesman Martin Nesirky.
Ban and U.N.-Arab League envoy Lakhdar Brahimi will continue to work for a political transition that leads to U.N.-organized elections, he said. The roadmap calls for a political transition and the establishment of a transitional governing body.
"Now more than ever it is critically urgent that the international community comes together to assist the Syrian people to build as early as possible a new and democratic Syria, one where the rights of all groups and minorities are properly protected," Nesirky said.
Ban and Brahimi strongly support the roadmap outlined by the Action Group for Syria at a meeting in Geneva on June 30. The plan calls for a political process that would start with the establishment of a transitional governing body vested with full executive powers and end with elections.
The Action Group includes all five veto-wielding members of the U.N. Security Council, and they all support the Geneva communique. Russia and China, however, later vetoed a Security Council resolution supporting the document because it threatened to put pressure on Assad if the fighting didn't end. Beijing and Moscow previously vetoed two other resolutions for similar reasons.
Brahimi has urged the Security Council to overcome its divisions, saying in November that only the council can put together a peace plan for Syria.
He said any plan must also include "a large, robust peacekeeping force" to ensure a ceasefire is observed because the government and opposition do not trust each other.
Ban's spokesman stressed Monday that "what the Syrian people desperately need at this time are real solutions to the crisis that is tearing their nation apart."
"The United Nations remains committed to do its utmost, in cooperation with other partners, to alleviate the suffering of the Syrian people inside and outside Syria," Nesirky said.
Associated Press