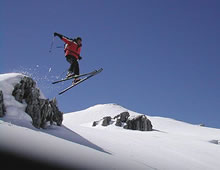 Lebanon is slashing airfares and hotel rates this week in order to revive its tourism industry, which is reeling from the civil war in neighbouring Syria.
Middle East Airlines, the national carrier, is offering discounts of up to 50 per cent on selected packages for a 50-day period starting on Tuesday, while Fadi Abboud, the minister for tourism, says he has asked local politicians to tone down their rhetoric while the promotion is on. "We're trying to change the mood," he explains.
The government-led discount campaign reflects how the conflict in Syria has hurt tourism in Lebanon, which depends on direct and indirect revenues from the sector for more than a quarter of its gross domestic product. Visitor numbers are down about 18 per cent from last year, and by nearly 38 per cent from 2010, according to research by Byblos Bank.
Until the turmoil began next door Lebanon's Mediterranean beaches, vibrant nightlife and permissive lifestyle were pulling in tourists from Gulf Arab states and elsewhere faster than the country could develop the infrastructure to absorb them. Despite the sporadic outbreaks of violence that have plagued the country since the end of its own civil war just over 20 years ago, Beirut was named one of the world's top travel destinations by the New York Times in 2009.
However, Syria's uprising, which began in 2011 and has since evolved into a bloody civil war, put an end to the party. Tourists from the Gulf, many of whom drove to Lebanon through Syria, were lost, while fatal clashes between supporters and opponents of the regime of Bashar al-Assad in the north Lebanese city of Tripoli increased fears that sectarian conflict would spread to volatile, multiconfessional Lebanon.
The dramatic assassination in central Beirut of an intelligence head who had worked on a case involving the Syrian security establishment, and warnings for Gulf citizens to leave the country after a wave of Syria-linked kidnappings, only exacerbated the fears of potential visitors.
"There are no tourists," says Paul Ariss, head of a local restaurant owners syndicate. "I have been in the business for the last 40 years – 2012 has been the worst," he says, adding that even during the country's 15-year civil war people spent more money on entertainment.
According to Mr Ariss, although new restaurants have opened, more than 40 have closed in greater Beirut in 2012, and that number could double in 2013 if support is not given to the sector.
Luxury hotel occupancy meanwhile stalled at 56 per cent in the first 10 months of the year according to Ernst & Young, down from nearly 70 per cent in a similar period in 2010.
The shadow cast by Syria's escalating civil war extends well beyond Lebanon's tourism sector. Fears of instability spreading have contributed to a drop in consumer confidence and a slowdown in FDI.
Lebanon has seen a huge influx of Syrians escaping the violence since the uprising began, including both destitute refugees and better-off middle class families. Although the latter have mitigated the downturn in some parts of the economy, especially in the apartment rental market, economists say their cautious spending patterns do not make up for the negative economic effects of the Syrian crisis.
Nassib Ghobril, chief economist of Byblos Bank, attributes much of the Lebanese economy's estimated 6 per cent drop in growth since 2010 to Syria and its polarising effects on Lebanon. He welcomes the tourism promotion scheme but says it is unlikely to reverse the decline.
"Attracting tourists back to Lebanon is not just discounts and sales – it's restoring security and stability," he argues.
Mr Abboud, the minister, remains bullish, arguing that the sector has suffered from an image problem.
"Yes we're facing problems, yes the war is just next door, but life has to go on," he says.
Industry representatives are meanwhile waiting to see if tourists can be lured in with the special offers. Ghassan Hitti, manager of the Association of Travel and Tourist Agents in Lebanon, says the prices are competitive, but he is not convinced that Gulf tourists, who are the biggest spenders, will return in large numbers.
"I think the Arabs won't come numerously," he says. "We are living in a very critical situation in the area."
Financial Times