Patriarch attacks M14 politicians for boycotting dialogue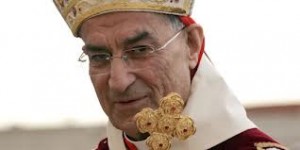 Maronite Patriarch Bechara Boutros al-Rai on Thursday attacked the March 14 opposition politicians for boycotting the national dialogue talks aimed at resolving the key issues facing Lebanon.
"Shame on you if you do not participate in national dialogue sessions," National News Agency quoted Rai as saying and adding.
"It is shameful and sad if political authorities in Lebanon were unable to reach an agreement over an electoral law that suits the Lebanese people's aspirations."
Commenting on the Syrian Refugees issue he said.
"It is shameful for politicians not to sit together to discuss the issue of Syrian refugees, which is the biggest humanitarian and social problem facing us today."
President Michel Suleiman has repeatedly been calling for national dialogue. He renewed his invitation for Lebanon's political leaders to attend a new dialogue session on January 7, 2013, but this date has reportedly been postponed too.
March 14 alliance had announced its boycott of government-related activity, including the national dialogue, in light of the assassination of Internal Security Forces Intelligence chief Brigadier General Wissam al-Hassan on October 19.
It accused Syria and Hezbollah of being behind the crime and blamed the government of covering up for the criminals, demanding its resignation as a condition to ending its boycott.
Ever since he was elected as the new Maronite Patriarch, Rai has been critical of March 14 and supportive of Hezbollah and Syria according to analysts.