Tourism plummets due to Lebanon position on Syria, report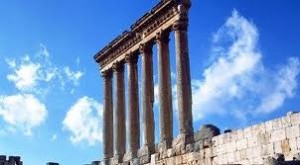 As civil war rages in neighbouring Syria and with tourism from the Gulf non-existent, hardened Lebanese merchants are surviving on a mixed bag of individual initiative, well-off Syrian tourists and help from expats.
Sitting in her lifestyle boutique, with evening gowns displayed opposite a fully stocked bar, Sophie Salame says the Lebanese "always have a plan B."
"We have had tough times, but I cut costs and by the end of the year came up with better results," she said.
Her strategy included early sales and personally emailing Arab clients whose governments she wishes had not issued travel warnings.
"The Arabs are boycotting us. They want to take a stand on the government's position on Syria," she said, adding that a holiday influx of expatriates and an exodus of upper class Syrians has been a saving grace.
"There are two kinds of refugees," she said.
Since the 21-month revolt erupted, hundreds of thousands of less fortunate Syrians have fled to Lebanon, where a weak and divided government has adopted a policy of "disassociation" from the bloody conflict.
Over the summer, the oil-rich Gulf states urged their citizens to avoid Lebanon after Syria-linked clashes and kidnappings rocked the long-time shopping and nightlife hub.
This badly affected tourism and the economy in general, said Violette Balaa, an economic analyst and strategy manager at First Protocol, an event planning agency.
"On the surface, this decision was security-related, because of fears of instability or kidnappings, but it is political and aimed at punishing Lebanon for its position on the Syrian issue," she said.
There has been a dramatic slump in tourism, which normally accounts for 22 percent of GDP but has dropped as low as 10 percent, Balaa said.
The decline in tourists from the Gulf did not stop Salame from flying in a designer from London to create her dazzling window displays.
"It cost me a small fortune. But I could not let Christmas pass without it," she said. "Lebanese love life and they love to spend money, even in tough times."
'Cruising, not buying'
The luxury Beirut Souks shopping centre is still packed, but according to Balegh, who works in a fashion store, most people were "cruising and not buying."
Business nosedived after the assassination last October of intelligence chief Wissam al-Hassan, which was widely blamed on the Syrian regime by Lebanon's pro-revolt opposition, he said.
Joanna, in a lingerie shop, said customers are buying only the basics and constantly bargain-hunting.
"We mostly count on tourists, but there are no tourists in Lebanon now," she said. Most of her customers are Lebanese or Syrians.
Sales are far lower than in previous years, she said — "not only in this souk, all over the country."
In one sign of hard times, the traditional New Year fireworks display sponsored by construction giant Solidere was cancelled.
Tony Eid, founder of the merchants' association in central Beirut, expressed regret, but added: "In times of crisis, everyone has to double his efforts in order to gain the most… or lose the least."
Tony Salame of Lebanese luxury boutique Aishti, said retailers must put their best foot forward.
"If you take away the window displays, the fireworks, the advertising, people are going to think it's over, that Beirut is no longer a destination. And that's not the case."
"It's easy with a recession to cut down on everything but in the medium term it will hurt us."
Francois, 49, works in Saudi Arabia and brings his family back for 10-15 days every holiday season out of patriotism.
"With the money we spend here we could go to many places in Europe or Asia, but we come here to help the economy," he said.
Not all foreign tourists have been scared off. In mid-afternoon two Jordanians rushed out of the Souks, crisp bags from Aishti and chocolatier Patchi in hand.
"Just a teeny bit of holiday shopping," beamed the well-heeled young woman as her friend hurried her along to catch their flight home to Amman.
Canberra Times