Former president Bush battling 'stubborn fever' remains in ICU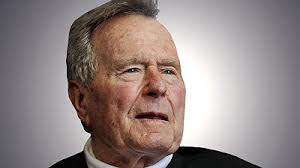 Former President George H.W. Bush remains in the intensive care unit of Houston's Methodist Hospital on Thursday, after battling a bronchitis-like cough and fever for over a month.
Doctors say his condition is improving since he suffered a setback on Christmas Day but also say they are having trouble keeping the former president's fever under control. He was reportedly put on a liquid diet on Wednesday.
After a family spokesman referenced Bush's "stubborn fever" and "guarded condition," his office released a statement saying doctors remain "cautiously optimistic" about the 41st president's prognosis. CBS News' Anna Werner reports that he has been able to receive visits from his wife, children, and grandchildren and to join them in a Christmas day takeout meal.
Thursday, Dr. Lori Mosca of Columbia University Medical Center and New York Presbyterian Hospital explained that "guarded condition" "is somewhere in between being stable and critical," a state that requires constant careful monitoring by doctors.
Dr. Mosca added that while the fever could be due to bronchitis, "any fever in an elderly person is serious," and that doctors should continue to look for the source of the fever — which could range from an allergic reaction, to a drug reaction, to an immune system issue.