Aoun, Iran share same views on Syria, envoy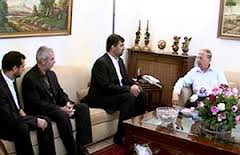 Iranian envoy to Lebanon Ghadanfar Roken Abadi said that leader of the Free Patriotic Movement (FPM) MP Michel Aoun and Iran share same views on the events in Syria.
"There is a convergence in our points of view especially with regard to the military confrontations that have reached a dead end," Abadi was quoted as saying by the National News Agency on Friday following a meeting with Aoun.
Aoun is closely allied with the Iranian and syrian backed Hezbollah militant group , while Iran is the strongest ally of Syria.
Syria, is witnessing an a pro democracy uprising against the regime of President Bashar al-Assad, which has so far killed more than 44,000 people, mostly civilians , since its outbreak in March 2011.