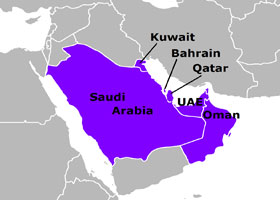 The Gulf Cooperation Council (GCC), a regional grouping of six oil-producing countries in the Middle East, has decided to establish a joint defense system to meet what it called growing regional threats.
Briefing reporters on the conclusion of a two-day GCC summit in the Bahraini capital Manama on Tuesday, Secretary-General Abdullatif Al-Zayani said the summit had agreed to establish a joint military command for member-countries' naval, air and ground forces while endorsing a GCC security pact, the Arab News reported.
Leaders who attended the summit reiterated their commitments to the principle of joint collective security through the development of military capabilities and self-development of each of the GCC states and the commitment "to promote the development of the common defense system to defend the achievements of the states."
The summit urged Iran to stop immediately its "interference" in the internal affairs of the GCC countries. The GCC "rejects and denounces" Iran's "continued interference" in their internal affairs and Tehran must "immediately and completely stop these actions and policies that increase regional tension and threaten security and stability," the Saudi newspaper quoted Al-Zayani as saying.
The summit condemned Iran's "continued occupation of the three UAE islands — Abu Musa, Greater Tunb and Lesser Tunb — located at the entrance of the strategic Strait of Hormuz. "Any acts or practices implemented by Iran on the three islands will be deemed null and void and should not entail any change in legal or historic status of the islands which confirm the right of supremacy of the UAE over its three islands," Al-Zayani said.
It also urged Tehran to cooperate with the U.N. nuclear watchdog the International Atomic Energy Agency (IAEA) over its controversial nuclear program and to ensure the safety of its Bushehr atomic power plant on the Gulf to avoid any nuclear accident.
Al-Zayani said the summit leaders reiterated their support for the Gulf Union proposed by King Abdullah of Saudi Arabia at the last summit held in Riyadh to strengthen the organization in the backdrop of growing regional threats.
They also called for a rapid political transition in Syria to end the crisis, while supporting the Syrian mission of U.N.-Arab League special envoy Lakhdar Brahimi, and hoped that it "will help achieve agreement within the Security Council."
The GCC states affirmed their support to the newly-formed Opposition coalition "as the legitimate representative of the Syrian people." According to activists, more than 35,000 people have been killed since a popular uprising broke out in March, 2011 against the much-despised regime of President Bashar al-Assad whose family ruled the Middle East nation for more than three decades.
The GCC consists of Saudi Arabia, Qatar, Bahrain, Kuwait, Oman and the UAE.
RTT