March 14 ready for dialogue with Suleiman, not March 8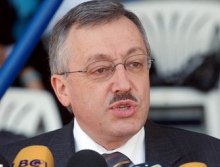 Future Movement bloc MP Ahmed Fatfat said on Wednesday that the March 14 opposition alliance is ready to engage in dialogue but with President Michel Suleiman only and not with the March 8 alliance.
"Resuming the national dialogue will not defuse tension," Fatfat stressed during an interview with Voice of Lebanon radio
He described the dialogue table as a "big lie."
The lawmaker insisted on the resignation of the cabinet as a key condition to resume any political activity.
His remark came a day after Suleiman urged the different parties to return to the all-party talks.
"If they (the opposition) refuse, then they should offer alternatives," the president suggested.
March 14 alliance had announced its boycott of government-related activity, including the national dialogue, in light of the assassination of Internal Security Forces Intelligence chief Brigadier General Wissam al-Hassan on October 19.
It accused Syria and Hezbollah of being behind the crime and blamed the government of covering up for the criminals, demanding its resignation as a condition to ending its boycott.
Electoral law
"The parliament can carry out its tasks in the absence of the government, thus the electoral law will not be obstructed," Fatfat pointed out
He expected discussions over the new electoral draft law to end in one week if the subcommittee tasked with reviewing the electoral system held intensive meetings.
Fatfat rejected the proportional representation electoral law, which was proposed by the cabinet, calling on the March 8 coalition to agree on a unified law and suggest it before the subcommittee.
"We can discuss with the March 8 alliance our previously suggested electoral law, which states the adoption of the small-sized districts," the MP said.
The opposition had announced on Monday its agreement to return to the parliamentary subcommittee meeting aimed at tackling the new law.
Hamadeh
In a related development March 14 MP Marwan Hamadeh responded to President Suleiman's call for dialogue by saying that the formation of a national salvation government is the first of three conditions set by the March 14 alliance to return to the national dialogue table.
President Michel Suleiman "knows what's the alternative to the resumption of dialogue," Hamadeh told Voice of Lebanon radio .
"The first lies in forming a neutral cabinet that salvages the country from its crisis, the second is to abide by the Baabda Declaration that was violated by the other party (March 8) and the third is to hand over the suspects in ex-Premier Rafik Hariri's assassination," he stated.