Joint M 8, M14 committee meeting set for Jan 8 at a hotel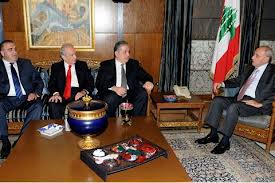 A Joint Parliamentary Committee of March 8 and March 14 will convene on January 8 at a five star hotel in downtown Beirut to discuss the electoral law, the parliament's administrative department revealed on Wednesday.
This development comes after a March 14 delegation met with Speaker Nabih Berri.
"We hope these discussions will break the ice between different parties in the country," Berri said, urging the MPs to meet intensively, up to several times a day.
"By communicating and cooperating Lebanon can avoid the dangers threatening our stability and bravely embrace the future," Berri was reported as saying.
March 14 MP Robert Ghanem who heads the committee will head these meetings.
Last week Berri proposed that March 14 members of the committee should reside at a secure five star hotel near the parliament in downtown Beirut, as a safety precaution, to meet with the Joint Parliamentary Committees' members and discuss the 2013 electoral law.
Several March 14 MPs have been recently threatened with assassination .