Speaker Boehner's plan to avert 'fiscal cliff' fails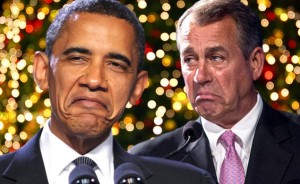 US House Speaker John Boehner was handed a stunning defeat late Thursday by members of his own party who refused to support his "Plan B" to avoid the year-end "fiscal cliff" that threatens to send the economy in to a recession.
GOP leaders worked intensely Thursday to build support for Boehner's two-pronged legislative effort to cut spending and extend current tax rates for all but those earning $1 million or above, but they could not persuade enough Republicans to vote for the proposal in the face of what was expected to be unanimous opposition from Democrats.
Boehner's failure to move his alternative plan through the House, as well as the current impasse with President Obama on how to address expiring tax rates and impending spending cuts, has thrown negotiations to avert the "fiscal cliff" in to disarray just 10 days before it hits.
In a brief statement, Boehner, R-Ohio, said his plan "did not have sufficient support for our members to pass" and put the responsibility to avert the "fiscal cliff" on Obama and Senate Majority Leader Harry Reid, D-Nev.
The White House said in a statement that the president's "main priority" is that tax rates do not rise for 98% of Americans and that Obama "will work with Congress to get this done."
Boehner summoned his rank-and-file to a meeting late Thursday where he opened with the Serenity Prayer and informed his members that he did not have enough of their support to move forward. He told lawmakers that he would reach out to the president to determine the next steps. Lawmakers were told they could go home for the Christmas holiday. No votes are expected in Congress before Dec. 27.
"This was our attempt to lead," said Rep. Aaron Schock, R-Ill., who supported Boehner's plan. "Clearly, we were not able to do that. So now we're going to have to respond to whatever the Senate is able to do."
Reid supports Obama's proposal to let tax rates expire for those earning $250,000 a year or more. In negotiations with Boehner, the president agreed to $400,000 and above, but it is unclear how the GOP's failure Thursday to approve their own tax plan will affect ongoing negotiations.
Before the collapse of the Plan B vote, the House narrowly passed a spending cuts bill, originally authored by Budget Chairman Paul Ryan, R-Wis., to partially alter impending Jan. 2 spending cuts to protect defense programs, by a 215-209 vote.
House Democrats, led by Minority Leader Nancy Pelosi of California, criticized the spending vote, saying it gutted social programs for the poor.
"More than 20 million children will have reduced food and nutrition benefits. Merry Christmas to you and yours. One-point-seven million seniors will lose Meals on Wheels. Happy holidays to you," Pelosi deadpanned.
Just 10 days remain to negotiate a bipartisan agreement to avert expiring tax rates and new spending cuts that together threaten the U.S. economic recovery.
The president and Boehner have exchanged dueling offers to avoid the cliff, but they have failed to find consensus on which Americans should pay more in taxes or how much spending should be cut. The president is also seeking a two-year extension of the debt ceiling — the nation's borrowing authority — which Republicans strongly oppose.
GOP legislative maneuvering on what Plan B was more tactical than practical because Reid had said he will not take it up in the Senate and Obama had pledged to veto it.
"We're not taking up any of the things they are working on over there," Reid said. "It's time for Republicans to get serious."
White House spokesman Jay Carney had called Boehner's and the Republicans' pursuit of Plan B an "a multiday exercise in futility."
Recent public polling confirms Republican fears that their party could take the brunt of the blame if Washington goes over the "fiscal cliff" and tax rates rise on practically every American household.
A USA TODAY/Gallup Poll showed Americans by a nearly 2-to-1 margin approved of Obama's handling of the negotiations over Boehner's. Meanwhile, a CNN/ORC International survey released Thursday showed for the first time in their polling, a majority — 53% — view Republican policies are too "extreme," up 17 points from two years ago, when the Republicans first took control of the House after the 2010 elections.
USA Today