Hezbollah expects Syrian crisis to continue for a long time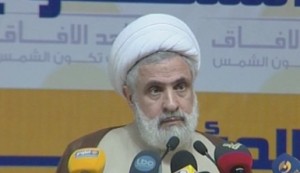 Hezbollah's Number two Sheikh Naim Qassem said that the Lebanese opposition should not bet on the developments in Syria to achieve domestic political gains because the crisis in the neighboring country will last a long time and no one knows what the outcome will be like.
" Again we tell the March 14 group not to count on the developments in Syria, since the crisis will last a long time and cannot bet on the outcome," Qassem was quoted as saying by the National News Agency on Friday.
Qassem's statement echoed Hezbollah Secretary General Sayyed Hassan Nasrallah's remarks during a speech last week during which he said that the pro-Western alliance was "betting on the fall of the Syrian regime."
"If you are getting information that the regime will fall in Syria, all your information is wrong. Do not build your information on wrong estimations," the Hezbollah chief said.
The Syrian crisis has widened the split between the Hezbollah led March 8 alliance and the March 14 opposition coalition.
Russia, along with Iran, have been Assad government's few dependable international allies. However, there has been a change of tone in recent comments from Moscow.
On Dec. 13, Russian Deputy Foreign Minister Mikhail Bogdanov said the rebels might succeed in ousting Assad, a public acknowledgment that surprised international observers. The Russian government sought to backtrack the next day.
The changing tone in Moscow reflects frustration on the part of the Kremlin over the inability of Syrian president Bashar al Assad to win the war which has bee going on for more than 21 months. Over 44,000 have been killed since the uprising began in March 2011.