Syria's Lebanese attorney files lawsuit against M14 MP Sakr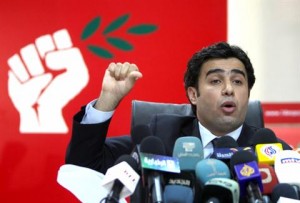 Lebanese attorney Rashad Salameh filed a lawsuit Tuesday in a Beirut court against MP Okab Sakr, accusing him of "acts of terror," including jeopardizing Syria's security.
Salameh who was is representing the Syrian regime in this legal case submitted the lawsuit to Prosecutor Hatem Madi's office.
In the lawsuit Salameh accused Sakr, and accomplices, of "jeopardizing Syria's homeland security, financing terrorist groups, carrying out terror acts and inciting murder."
March 14 MP Sakr, a key member in former Prime Minister Saad Hariri's Future parliamentary bloc, has been at the center of allegations of arming and funding Syrian rebels on behalf of Hariri.
Last week, Syria issued warrants for Hariri, Sakr and Free Syrian Army media coordinator Louay Meqdad claiming that they provided weapons and funds to "terrorist groups" in Syria.
Medal of honor
Sakr described last Wednesday the Syrian arrest warrants as a "medal of honor".
Pro Syrian media in Lebanon like the Al Akhbar newspaper and OTV newspaper recently leaked recordings of conversation between MP Sakr and Free Syrian Army official al-Meqdad to prove his involvement in arming of the Syrian opposition.
Sakr said last week that the arrest warrants prove that the Assad regime "forged the recordings."
Sakr also accused OTV and al-Akhbar of tampering with the audiotapes and saying that he will file a lawsuit against them.
Sakr has insisted he was providing Syrians with humanitarian aid.
Interpol rejected arrest warrants
The Interpol rejected the Syrian arrest warrants against Hariri, Sakr and Meqdad in line with its constitution and rules, according to a report by al-Mustaqbal newspaper last Wednesday.
Interpol reportedly sent a memo to its offices in the Arab countries in which the organization said it has decided not to keep the arrest warrants in its database and will not cooperate with them based on its regulations as "it is strictly forbidden for the organization to undertake any intervention or activities of political, military, religious or racial character."
Interpol pointed out that the request doesn't comply with its regulations based on "the nature of the charges, the status of the wanted individuals and the current situation in Syria."
No connection to Phalange party
The Phalane Party which is headed by former president Amin Gemayel denied reports that Salameh is a member of the party.
"The relationship with Salameh was severed long time ago and there is absolutely no connection now between him and the Phalange party " The media office of the phalange party announced in a statement on Tuesday