Engel was on his way to Hezbollah stronghold when freed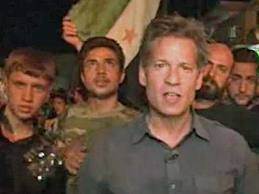 NBC reporter Richard Engel, who was rescued by the Syrian rebels from his Syrian captors , five days after he was held hostage Syria, said Tuesday that his captors were taking him to an alleged Hezbollah stronghold when he was set free by rebels.
"This was a group known as the shabiha. This is a government militia. They are loyal to President (Bashar) Assad," Engel said about his captors.
Engel told his employer NBC in his first interview since being released that he and two fellow reporters were not physically mistreated other than being bound and blindfolded, but suffered "a lot of psychological torture" at the hands of their masked abductors, who threatened to kill them.
"They made us choose which one of us would be shot first. When we refused, there were mock shootings… They fired the gun up in the air. It can be a very traumatic experience."
Engel said he was told his captors were trained by the Iranian backed Hezbollah militant group , adding that they wanted to exchange him and his crew for four Iranian agents, two Lebanese individuals and others captured by Syrian rebels, without providing further details.
"They were going to bring us to a Hezbollah stronghold inside Syria… We were on our way there when we ran into this rebel checkpoint."
A shootout ensued in which rebels shot dead two of his captors. Engel and his crew were freed unharmed shortly thereafter and made their way back across the border into Turkey, where they arrived in good health.
Engel, 39, is one of the most high-profile U.S. journalists to report from Syria, where rebels have been fighting to overthrow Assad in a civil war that has claimed some 43,000 lives, according to activists.
The Ahrar Al-Sham brigades confirmed in a statement that they had freed five foreign journalists who were "held by an armed gang connected to the regime."
The statement named Engel and four others, a Turk, a British Jordanian, another American, and a German Syrian.
AFP/ Naharnet