Siniora accuses PM Mikati of tarnishing Tripoli's image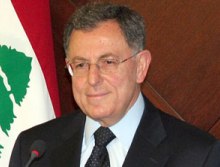 Former Lebanese Prime minister and current Future movement parliamentary bloc leader MP Fouad Siniora slammed Prime minister Nagib Mikati over his statements about the situation in northern Lebanon and accused him of trying to tarnish the image of Tripoli in order to appease the Syrian regime.
He was Addressing Mikati's claims that had the army not deployed in Tripoli an Islamic emirate would have been formed in the area.
"What emirate is he talking about?" Siniora wondered.
"Who halted the deployment of the army?" he asked in reference to Mikati 's objection to deployment of the Lebanese army .
The Future Movement and others had been demanding for months that the army deploy in Tripoli, the former PM stressed.
Siniora wondered whether Mikati's statements are aimed at appeasing the Syrian regime which has been claiming that Tripoli is a hub of extremists.
Addressing Mikati, who hails from Tripoli he asked: "Are you attempting to tarnish the city's image for some political gains?"
New government
Addressing Mikati's statements on the 2013 elections that his cabinet will only resign after Lebanese parties agree on an electoral law for the upcoming parliamentary elections he said:
"Mikati's proposal is nothing new." "It is not a step forward , does not resolve the current deadlock, nor will it help solve the Lebanese crisis … in fact it further complicates the situation."
Arrest warrants
Commenting on the Syrian regime's arrest warrants against former Premier Saad Hariri, Mustaqbal MP Oqab Saqr, and Syrian opposition member Louay al-Meqdad, Saniora said: "The warrants have no legal or political basis."
"The tactics of the Syrian regime will not yield any results," he added.