US to Deploy Anti-Missile Units in Turkey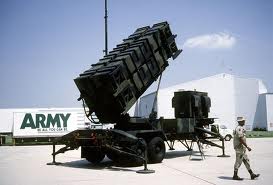 US Defense Secretary Leon E. Panetta signed an official deployment order on Friday to send 400 American military personnel and two Patriot air defense batteries to Turkey as its tensions intensify with neighboring Syria, where government forces have increasingly resorted to aerial attacks, including the use of ballistic missiles, to fight a spreading insurgency.
The American batteries will be part of a broader push to strengthen Turkey's defenses that will include the deployment of four other Patriot batteries — two from Germany and two from the Netherlands. Each battery contains multiple rounds of guided missiles that can intercept and destroy other missiles and hostile aircraft flying at high speeds.
Mr. Panetta's deployment order, the result of NATO discussions last week, represents the most direct American military action so far to help contain the Syrian conflict and minimize its risk of spilling across the 550-mile border with Turkey, a NATO member that is housing more than 100,000 Syrian refugees and providing aid to the Syrian rebels trying to oust President Bashar al-Assad.
Tensions between Turkey and Syria have escalated in recent months as Syrian forces have bombed rebel positions along the border and occasionally lobbed artillery rounds into Turkish territory. The Turks have also grown increasingly alarmed that Mr. Assad's forces could fire missiles into Turkey.
News of the Patriot deployment order came as antigovernment activists inside Syria reported new mayhem, including an unconfirmed rebel claim to have shot down a government warplane attacking insurgent positions near the international airport in Damascus, the capital.
In Moscow, meanwhile, the Russian Foreign Ministry sought to distance itself from comments a day earlier by its Middle East envoy that the Syrian rebels might defeat Mr. Assad, a longstanding Kremlin ally and arms client. A ministry spokesman, Aleksandr K. Lukashevich, said Russia remained committed to a political solution in Syria.
"We have never changed our position and will not change it," Mr. Lukashevich said. He rejected a comment made by a State Department spokesman on Thursday that Moscow had "woken up" and changed its position as dynamics shifted on the battlefield, saying, "We have never been asleep."
All six Patriot units deployed in Turkey will be under NATO's command and are scheduled to be operational by the end of January, according to officials in Washington.
George Little, the Pentagon spokesman, said Mr. Panetta signed the order as he flew from Afghanistan to this air base in southern Turkey, close to the Syrian border.
"The United States has been supporting Turkey in its efforts to defend itself," Mr. Little said.
The order "will deploy some 400 U.S. personnel to Turkey to support two Patriot missile batteries," Mr. Little added, and the personnel and Patriot batteries will arrive in Turkey in the coming weeks. He did not specify their deployment locations.
After landing at Incirlik on Friday, Mr. Panetta told a gathering of American Air Force personnel of his decision to deploy the Patriots.
He said the United States was working with Turkey, Jordan and Israel to monitor Syria's stockpiles of chemical weapons, and warned of "serious consequences" if Syria used them, but he did not offer any specifics.
"We have drawn up plans for presenting to the president," Mr. Panetta said. "We have to be ready."
Turkey's worries about vulnerability to Syrian missiles, including Scuds that might be tipped with chemical weapons, were heightened recently by intelligence reports that Syrian troops had mixed small amounts of precursor chemicals for sarin, a deadly nerve gas, at one or two storage sites, and loaded them into artillery shells and airplane bombs. "Their arsenal of chemical weapons has been configured for use at a moment's notice," Representative Mike Rogers, a Michigan Republican who heads the House Intelligence Committee, said in an interview on Friday. Mr. Panetta, however, said this week that intelligence about chemical weapons activity in Syria had "leveled off."
Recent Scud missile attacks by Mr. Assad's forces against rebels in northern Syria have only added to Turkey's concerns. The Scud missiles were armed with conventional warheads, but the attacks showed that the Assad government was prepared to use missiles as it struggled to slow rebel gains.
With the nearly two-year-old Syrian conflict entering its second winter and many thousands of people struggling for food and warmth in cities ruined by protracted fighting, the humanitarian costs seemed to be mounting.
An activist in the central province Homs, who identified himself as Abu Ourouba, said the town of Houla — where, the United Nations confirmed in May, Syrian troops had killed more than 100 people, including 32 children — was facing catastrophe.
"Houla has been besieged from all directions for the past 10 days," he said. "Until now, not even one loaf of bread has entered Houla. The food that was available is beginning to run out very quickly. Most children don't have milk anymore. The kids are at risk of dying from hunger."
Shelling along access routes means that no one can walk "unless they crawl" to avoid hundreds of strikes from tanks, warplanes and rocket launchers, the activist said.
NY Times