Desperate Syrian forces fire ballistic missiles at rebels
Government forces have fired at least a half-dozen short-range ballistic missiles at rebel groups in northern Syria over the past several days, according to U.S. officials, a potentially significant escalation of a civil war that has killed more than 40,000 people.
U.S. officials and the group Human Rights Watch also alleged Wednesday that Syrian government forces are dropping incendiary devices similar to napalm weapons on rebel fighters in populated areas.
The officials described the tactics as acts of desperation as rebels gain momentum in the nearly two-year-old fight to oust President Bashar al-Assad.
"How desperate do you need to be to launch a ballistic missile against your own people in your own country?" a senior Obama administration official said. "It's the last tool you would use in a counterinsurgency" because of the risk of civilian casualties, particularly in a conflict in which most of the fighting has occurred in urban areas.
Details were scarce on the launch site of the missiles or whether they caused any casualties. Victoria Nuland, a spokeswoman for the State Department, said only that "we have . . . seen missiles deployed."
Administration officials, who spoke on the condition of anonymity to discuss intelligence findings, declined to specify the types of missiles used or the exact location of the strikes.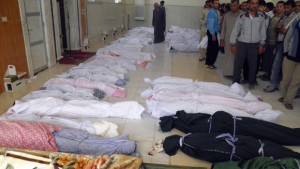 A NATO official in Brussels told the Reuters news agency, "Allied intelligence, surveillance and reconnaissance assets have detected the launch of a number of unguided, short-range ballistic missiles inside Syria this week. Trajectory and distance traveled indicate they were Scud-type missiles."
A second senior Obama administration official said that as recently as two weeks ago, U.S. intelligence had dismissed reports of missile strikes by the Syrian government as unfounded, but that "this time, they say it was surface-to-surface missiles of some sort."
The Scud arsenal
The bulk of Syria's substantial missile arsenal consists of Russian- and North Korean-made Scuds, which have a range of up to 300 miles. There have been reports that Syria modified one variant to boost its reach to 435 miles.
"How desperate do you need to be to launch a ballistic missile against your own people in your own country?" a senior Obama administration official said. "It's the last tool you would use in a counterinsurgency" because of the risk of civilian casualties, particularly in a conflict in which most of the fighting has occurred in urban areas.
Scuds, most infamously used by the Iraqi government of Saddam Hussein during the 1991 Persian Gulf War, are notoriously inaccurate, although modifications since then are said to have improved their capabilities. In the worst attack of the 1991 war, 28 U.S. troops were killed when a Scud hit their barracks in Dhahran, Saudi Arabia.
U.S.-made Patriot missiles were effectively used against Scuds in the Gulf War, and NATO has agreed to deploy Patriot batteries in Turkey, which shares a 550-mile-long border with Syria.
The use of Scuds or similar missiles could increase the risk of civilian casualties because they could easily stray into densely populated areas even if fired at rebel outposts owing to their inaccuracy.
As fighting continued in the suburbs of Damascus, the Syrian Interior Ministry said three bombs, at least one of them in a car, had collapsed walls of the ministry building and killed at least five people. The bombs have been a trademark of extremist groups that Western governments say are increasingly infiltrating the insurgency.
On Tuesday, the Obama administration designated one of the groups, the al-Nusra Front, also known as Jabhat al-Nusra, as a global terrorist organization. The administration says al-Nusra is part of the al-Qaeda organization in neighboring Iraq.
The United States and other rebel supporters moved expeditiously Wednesday to promote a Syrian opposition political front.
More than 100 governments attending a Friends of Syria meeting in Marrakesh, Morocco, officially recognized the recently formed Syrian Opposition Coalition as "the legitimate representative of the Syrian people and the umbrella organization under which the Syrian opposition are gathering."
"Bashar al-Assad has lost legitimacy and should stand aside to allow a sustainable political transition," a declaration issued at the meeting said. President Obama announced U.S. recognition of the group Tuesday in an interview with ABC News.
The recognition came barely a month after the coalition was organized to represent Syrians outside and within the country, where the opposition has failed to dislodge Assad's core support among minority groups, including his Alawite sect, an offshoot of Shiite Islam. Many Alawites, along with Christians and other minorities, fear a takeover by the rebels, who are largely Sunni Muslims.
A U.S. official who attended the Morocco meeting praised a speech made there by the coalition's president, Mouaz al-Khatib, an Islamic cleric considered a moderate. The official said Khatib "made clear how much they're working for all Syrian people, no matter what community or religion."
Khatib also indirectly criticized the Obama administration's terrorist designation for the al-Nusra Front, asking for reconsideration of what he described as an unnecessary attempt to divide anti-Assad forces.
The coalition reported on its efforts to gather data and streamline delivery of humanitarian assistance for up to 2.5 million Syrians who have been displaced in the fighting and are in desperate need of food, medical care and winter supplies.
Although some anticipated that the group would also announce the formation of a transitional government for Syria, the U.S. official said supporting countries have decided that it is more important for the coalition, made up of disparate local revolutionary councils and recent exiles, to solidify itself internally.
"We said, 'Don't do something that's going to blow you apart. Don't push forming a government more quickly than your politics can stand,' " the official said. The fact that the group is "as organized and together as it is is a good thing. That's what we're concentrating on."
This official and others cautioned that bestowing the title of "the legitimate representative" is not tantamount to recognizing the coalition as Syria's government. The effect is largely a psychological one that its backers hope will lead to a more organized distribution of aid and will further encourage potential supporters inside Syria.
Documents endorsed by the group offer to negotiate a transition with Syrian government officials who do not have "blood on their hands." It remains unclear how the situation would move from the civil war to a negotiated settlement.
"The only opportunity" for a settlement, the U.S. official said, is if Assad and his circle "see that their days are numbered" and choose to leave. "There are no other options."
Washington Post