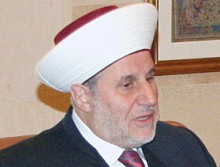 Both Lebanon Prime Minister Najib Mikati and Speaker of Parliament Nabih Berri called the Mufti of Tripoli and North Lebanon Sheikh Malek al-Shaar, to convince him to return from self exile France.
Mikati told Shaar on Friday that he should "return to Lebanon to stand by his family and by the people of his city at this phase that requires the combined efforts of wise men such as himself."
"Security forces will take appropriate measures to ensure his safety," National News Agency quoted the PM as saying.
Berri asked Shaar to "reconsider his decision to remain abroad and come back to Lebanon to contribute closely to the efforts aiming at the return of calm to the northern city of Tripoli."
Lebanese Interior Minister Marwan Charbel confirmed on Thursday that Mufti of Tripoli and North Lebanon has been warned by security forces that there are security threats against his life, which prompted him to leave the country.
"There is danger all over Lebanon, and the mufti is among a list of people whose lives are threatened, so we warned him and we will take all the preventive measures when he returns to the country," Charbel told New TV on Thursday.
Charbel's remarks came after Mufti Shaar told "Voice of Lebanon radio station on Wednesday that he decided to extend his stay in Vienna after receiving several calls from Beirut advising him not to return to Lebanon.
He told VOL that he intends to move later from Vienna to Paris, where he will stay for several days.
"I have received security warnings and tips not to return to Lebanon" , he said
In another interview with Kuwaiti newspaper al Seyasseh he revealed that he received "warnings of a plot to assassinate him."
He also confirmed that he had received warnings from the Lebanese security authorities over his plans to return to Lebanon, asking him to extend his stay abroad and to take the utmost caution.
He pointed out that he wants to return as soon as posible to serve his Muslim community in north Lebanon.
Mufti Shaar is closely associated with former PM Saad Hariri who has been outside the country for more than a year for security reasons.
Tension in Lebanon escalated following the assassination on October 19 of Lebanese International Security intelligence chief Brig. Gen. Wissam al-Hassan, who was also closely associated with Hariri. Syria and Hezbollah were accused of being behind Hassan's murder.
Hassan was assassinated a day after he secretly returned from Paris.
The current cabinet in Lebanon is dominated by the Iranian and Syrian backed Hezbollah militant group which is supporting Syrian president Bashar al Assad in his crackdown against the uprising . Over 42,000 have been killed so far since the uprising began on March 15, 2011.
Hezbollah according to observers also controls the airport security and for this reason the militant group is the first to know who is coming and going.
Shaar appeals to the Alawites
During an interview with An Nahar newspaper in a report published on friday he appealed to the Alawites to consider Lebanon their country and Tripoli their home"
"I would like our Alawite brothers in Tripoli to consider themselves the children of Tripoli and free lebanese citizens . They are not foreigners  and our lives would not be at all  complete without them . Lebanon is our country and Tripoli is our home. Lebanon main attraction is pluralism and diversity and Tripoli is a mosaic that includes all sects and creeds and political ideas . We are all civilized people and the children of this community , nation and civilization, and we can only deal with each other in a humanitarian and civilized maner for the sake of the country of Lebanon."
Tripoli has repeatedly been the scene of sectarian conflict linked to the troubles in Syria between pro-and anti-Syrian regime gunmen.
While the residents of the predominately Sunni neighborhood of Bab al-Tabbaneh support the uprising in Syria the residents of the predominately Alawite neighborhood of Jabal Mohsen, support Syrian president bashar al Assad ( who is also a Alawite )in his crackdown against the rebels. Both communities are are divided by the main thoroughfare "Syria" Street.