Over 150,000 Syrian Refugees in Lebanon, UN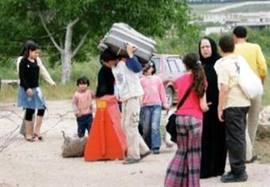 More than 150,000 Syrian refugees have fled the bloody conflict in their home country for Lebanon, according to figures released by the United Nations High Commissioner for Refugees on Saturday.
"There are around 109,000 refugees formally registered within the agency and 41,000 others currently contacting it to be registered," a statement released by the U.N. said.
It pointed out that a large number of the refugees are stationed in north Lebanon, where their numbers reached around 55,872 Syrian, while 44,178 are located in Bekaa and around 9,031 refugees in Beirut and the South.
The intense fighting between forces loyal to President Assad and rebels battling to overthrow him has sparked a huge exodus of Syrians to neighboring countries.
The agency said that it's discussing ways to safeguard the Syrians, who are in the northern city of Tripoli, amid the recent incidents that erupted in the city between opponents and supporters of President Bashar Assad's regime.
At least twelve people were killed and over 75 were wounded in the latest round of clashes that erupted in Tripoli last week in light of news that Lebanese fighters had been killed in an ambush in the Syrian border town of Tall Kalakh on November 30.
The statement hailed a plan set by the Lebanese government to aid the refugees.
Prime Minister Najib Miqati said last week after a meeting for donor countries that the government had placed a clear work plan that caters to the different needs of the displaced Syrians.
He revealed that a total of $179,276,320 had been provided to the Syrian refugees in Lebanon by the various concerned ministries.
Naharnet