Syrian Greek Orthodox Patriarch dies in Lebanon at 92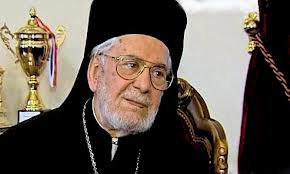 The patriarch of a Damascus-based Eastern Orthodox Church, Ignatius Hazim, has died in a Beirut hospital. He was 92.
Hazim was named Eastern Orthodox Patriarch of Antioch and all the East for the Greek Orthodox in 1979. His church is known as the Greek Orthodox Church of the Antioch.
He died of a stroke in Beirut's St. George's hospital on Wednesday, Syria's state-run news agency SANA said.
Hazim hailed from the Syrian town of Maharda in the central province of Hama. SANA said his remains will be brought from Lebanon to Syria for burial.
There are a number of mostly autonomous Eastern Orthodox churches in the Middle East and the region also has more than a half dozen patriarchs, including the Istanbul-based Ecumenical Patriarch Bartholomew I, the spiritual leader of world's Orthodox Christians.
Born April 4, 1920, Hazim moved from Syria to Beirut in 1936, where he later became a priest. He graduated from Beirut University in 1954.
He studied in France, and after his return to Lebanon co-founded the Orthodox Youth Movement in Syria and Lebanon in 1942.
A year after he was named Bishop for Palmyra and deputy Patriarch of Antioch in 1961, he was sent to the Balamand Monastery, where he became president and dean of the Theology Faculty. In 1982, the institution was transformed into an Orthodox Christian Church-funded university, the first in the Middle East. It is known as University of Balamand.
Hazim published a number of books on theology and earned honorary doctorates from Paris' Sorbonne, and theology academies in St. Petersburg, Russia, and Minsk, Belarus.
He was appointed Bishop for Lattakia in 1979 and was elected patriarch nine years later.
WP/AP