Syria agreed to return remains of the Lebanese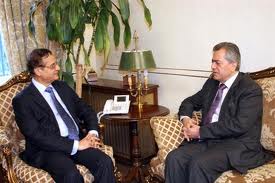 Lebanese Foreign Minister Adnan Mansour was informed by Syria's Ambassador to Lebanon Ali Abdel-Karim Ali that the Syrian authorities had approved the return of the remains of the Lebanese fighters who were killed in an ambush in Syria, National News Agency reported on Wednesday.
Ali told OTV television station on Wednesday that the hand-over would take place in several stages, adding that he would hold a series of meetings with Lebanese security officials to discuss the mechanism of the transfer of bodies.
"[The process] is on the right track, but it requires some time," Ali added.
He also said he cannot specify the number of bodies that will be returned to Lebanon.
There are conflicting reports about the exact number of dead.
Some reports indicated that as many as 22 young Lebanese men from the Lebanese city of Tripoli were killed in the Syrian border town of Tal Kalakh while other reports indicated four only were killed while the others were wounded or escaped unhurt. They were allegedly on their way to join the rebel forces fighting the regime of Syrian President Bashar al-Assad when they were killed in an ambush by the Syrian security forces.
Syrian state television broadcast Sunday images of more than five dead bodies with Lebanese identification documents, saying that the men were killed in Tal Kalakh after sneaking into the country from Lebanon's Wadi Khaled, and that others in the group had been wounded.
Prime Minister Najib Mikati has appealed to the International Committee of the Red Cross to help retrieve the remains of the slain Lebanese and obtain information about the fate of the others.
Ali also commented on the recordings implicating Future bloc MP Okab Sakr in providing support to Syrian rebels.
"What Sakr did is a violation against the Lebanese law and the international agreements."