Assir accuses Hezbollah, Amal of dictating Shiite decisions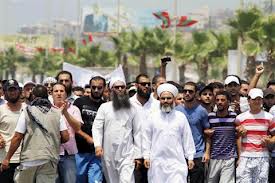 During a rally in Sidon in south Lebanon, Salafist cleric Sheikh Ahmad al-Assir accused Hezbollah and Amal Movement leaders of dictating Shiite decisions and stressed that his people want to live in peace with all sects, including Sunnis, Shiites and Christians.
He accused Hezbollah of trying to create hegemony in Lebanon through the use of its arms.
"Hezbollah is deliberately trying to create hegemony in Lebanon through their arms," Assir said.
He also accused Hezbollah Movement of being behind the assassination of former Lebanese Prime Minister Rafik Hariri.
He also lashed out at Hezbollah chief Sayyed Hassan Nasrallah for "disrespecting the Lebanese people by saying that May 7 was a glorious day."
On May 7, 2008 gunmen led by Hezbollah took over West Beirut and tried but failed to take over Mt. Lebanon following a government decision to shut down the party's telecommunications network and replace the security chief at Rafik Hariri International Airport because of his alleged ties to Hezbollah.
Four Hezbollah members were indicted by the UN-backed Special Tribunal for Lebanon for being behind the murder of Hariri who was assassinated in a massive car bomb in downtown Beirut on February 14 2005.
Lebanese Army units deployed in Sidon amid concerns of security incidents in the coastal city, and strict security measures were implemented to maintain calm ahead of the rally. Interior Minister Marwan Charbel personally headed to the city at around noon and held several meetings.
Assir, a staunch opponent of Hezbollah, has held frequent protests in the city to criticize the Assad regime and the support it enjoys from Hezbollah.
Charbel said earlier Sunday that the security forces will do their best to preserve security in Sidon and keep things under control.
He stressed that the Army and security forces will deploy heavily in the city to prevent any unrest.