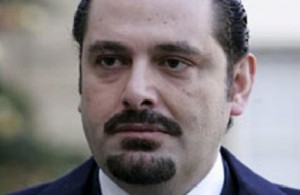 The Iranian News Agency "Fars " reported that the Baath Party in Lebanon accused former PM and Future Movement leader MP Saad al-Hariri of fueling the tensions and killings in Syria, and is responsible for bloodshed in the crisis-hit neighboring country.
"Head of the Lebanese Al-Mustaqbal party Saad al-Hariri is the head of assassins. Al-Hariri along with his group is responsible for the existing bloodshed in different parts of Syria," Fars quoted the Secretary of the Baath Party in Lebanon Mohammad Shaker al-Qawas as saying on Sunday.
The Baath party was founded in Syria. With the help of the military, the party took power in Syria On March 8, 1963 and has been running the country ever since.
Al-Qawas said he has the records and security investigations to support his accusations adding that Hariri and his Future Movement have been directly in charge of organized terrorist attacks against the Syrian government.
The Syrian government of president Bashar Al Assad refers to the Syrian rebels who have been trying to overthrow the regime as armed terrorists.
Over 40,000 Syrian have been killed in the crackdown by the Syrian regime against the pro democracy uprising according to activists.
While Iran and its supporters in Lebanon (including Hezbollah and the Baath party) have been backing the Syrian regime, the March 14 opposition including the Future Movement have been backing the Syrian uprising.