Egyptian protesters, police clash before Cairo rally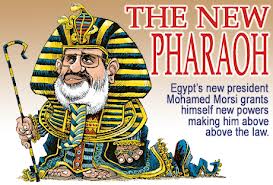 Egyptian protesters and police are clashing today in Cairo just hours ahead of a massive rally by opponents of the Islamist president, who are demanding that he rescind decrees granting him near-absolute powers.
Tuesday's clashes are near the U.S. Embassy and the Egyptian capital's Tahrir Square — birthplace of the uprising that toppled Hosni Mubarak's regime nearly two years ago.
Police are firing tear gas after hundreds of protesters pelted them with rocks in a street leading from the square to the embassy.
Morsi's party, the Muslim Brotherhood, cancelled its own planned demonstration over fears of violence between the rival groups, CBC's Margaret Evans reported.
Demands to revoke decrees
The protesters have been staging a sit-in at the square since Friday night to demand that President Mohammed Morsi revoke his autocratic decrees.
At a meeting with Egypt's top judges Monday, Morsi insisted that the decrees did not in any way "infringe" on the judiciary.
Egypt's Morsi tells judges he stands by his decrees
The meeting did little to reassure the protesters in Tahrir Square, said Evans.
"They say they feel [Morsi's] shown his true face. They believe he has an agenda they don't agree with," Evans said. "They believe that they fought, lost loved ones for the revolution and that he's now basically betraying the ideals of that revolution."
Morsi, in power since June, says the decrees are necessary to protect the "revolution" and the nation's transition to democratic rule.
CBC/AP