Civilians Killed in Syrian Strike on Olive Press, report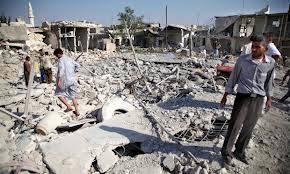 Beirut, Lebanon- Syrian rebels accused the authorities on Tuesday of launching an airstrike on an olive press "filled with people" in fields just outside the northern city of Idlib, killing at least 20 people and wounding 50 as they waited to have their olives turned into oil.
Two activist groups, the British-based Syrian Observatory for Human Rights and the Local Coordination Committees, which rely on local activists for their reports, both said the strike exacted a heavy toll on civilians, making it only the latest in many such attacks that have caused casualties among noncombatants in Syria's grinding civil war.
The authorities made no immediate comment on the claims, which came as rebel forces sought to secure a string of strategic gains, including a dam on the Euphrates River that they claimed to have overrun before dawn on Monday.
Ahmad Kadour, an anti-government activist in Idlib, who was reached by Skype said an government warplane dropped two explosive devices onto the Abu Hilal oil press, where throngs of people could be seen. He said rebel forces in the were "doing everything in their power to rescue people."
"I'm sure we'll find out more people died but it's too soon to find out the real number," he said. Mr. Kadour said rescuers were taking the wounded to makeshift hospitals or across the 550-mile border with Turkey, a key supporter of the rebels.
Activists maintain that the government strikes are responses to insurgent gains in a campaign designed to blunt the air power that has helped give President Bashar al-Assad an edge in countering the insurgency.
In recent weeks, rebels have overrun a half-dozen bases around Damascus, Syria's capital; two in the country's eastern oil-producing area; and the largest military installation near the country's largest city, Aleppo. They have focused on challenging air power, their deadliest foe, by harassing some air bases, ransacking others and seizing antiaircraft weapons.
The rebels are continuing to fight even in areas crucial for the government, like the ring of suburbs around Damascus and the commercial hub of Aleppo and its supply routes.
"Rebels are learning," Mr. Kadour, the activist in Idlib, said on Monday. "When they capture a base, they take the machinery and the weapons and leave right away, because the regime is always shelling the places it used to control."
NY Times