a Shattered Gaza celebrates cease-fire, Hamas claims victory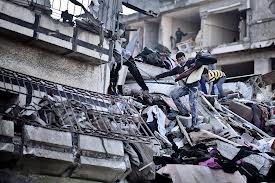 Celebratory gunfire crackled across the Gaza Strip on Wednesday night as Palestinians hailed what they called a victory by Hamas in forcing an end to Israeli attacks.
But the hum of Israeli drone aircraft lingered overheard, underscoring a sense of uncertainty about whether a week of violence that has killed more than 130 Palestinians had come to more than a temporary end.
While cries of "God is great'' echoed from Gaza's mosques Wednesday, the shards of glass and other scenes of destruction evident across the crowded enclave conveyed an image that was less a triumphant. A final Israeli onslaught had turned dozens of homes, shops and offices into rubble, in attacks that seemed to intensify in the final 24 hours before the cease-fire announcement from Cairo.
For the most part, the targets struck by Israeli war planes and ships during the conflict — government complexes, bridges, farms, smuggling tunnels, paramilitary training facilities and residences of suspected militants — had been connected in some way to Gaza's Hamas-led government.
But the 24 hours before the cease-fire was announced saw a major escalation by Israel, and Palestinians, who had hoped for an earlier end to the fighting, saw their expectations crumble overnight Tuesday amid the thunder of fresh strikes that sent balls of flame hundreds of feet into the sky.
Many Gaza residents said they believed the signal was clear, even if negotiations in Cairo might bring the strikes to a halt. "We're going to target all of your buildings, and you have no place here," a Palestinian bystander who would not give his name said Wednesday morning, characterizing the Israeli message.
As he spoke, an Israeli F-16 suddenly roared overhead, releasing a deafening explosion on a building 100 meters away. It was immediately followed by another blast, and then another, and another. Panic erupted, and a crowd of spectators stampeded over a rubble-strewn landscape as the buildings behind them seemed to erupt in a series of apocalyptic fireballs, smoke and dust filling the air.
In what were among the final strikes, Israel targeted two bridges, including one that connected northern and southern Gaza over a valley used to funnel the strip's sewage into the sea.
Other overnight airstrikes ripped through homes and farmland, and reduced a major Interior Ministry complex to a sprawling wasteland of rubble the size of a football field. Known as Abu Khadra, the complex had been evacuated a week ago, and it contained military and police headquarters, but also the government offices for passports and other travel documents.
There were no casualties in the strike, employees said.
Among other targets was a villa that residents said belonged to Azzam al-Showa, the president of al-Quds bank, an institution with no obvious ties to Hamas. On Wednesday, it was a mountain of concrete shards strewn with torn rugs, broken flower pots and the pages of books.
No one was home when an Israeli F-16 struck late Tuesday night, and neighbors said they were mystified by the target.
Showa was a former energy minister under the Palestinian Authority in Ramallah. Now he is the general manager of al-Quds, but Hamas has its own bank, neighbors said — the Islamic National Bank, also destroyed Tuesday in an Israeli strike.
"We have no idea. He's a peaceful man, a businessman. He has nothing to do with anything," said Basil Milad, one of the neighbors.
The only thing about Showa that might have drawn the Israelis' attention, Gaza City residents said, was that his bank had recently started granting loans to Palestinians, whereas most other banks had stopped, afraid they would not be paid back.
The destruction from the week's fighting added new layers to destruction from years' past in a territory that has never gotten on its feet.
Most of the strip's 1.7 million people are refugees — the descendants of those who fled ancestral homes on the land that is now Israel during the war over the Jewish state's creation in 1948.
The United Nations said Wednesday that 10,000 Gazans have been displaced within the strip in the past week of war, many Tuesday night after the Israel Defense Forces urged residents of the north to evacuate their homes.
The most recent previous Israeli assault, an invasion of Gaza in 2008 and 2009, displaced thousands more. Many of them have struggled since to rebuild homes while contending with an Israeli blockade on construction materials.
Over the past week, many Gazans said, much of the infrastructure that has been rebuilt since that last war has again been systematically destroyed.
Washington Post