2 rockets fired from south Lebanon towards Israel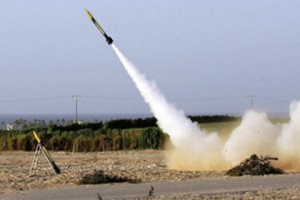 Two rockets were fired from south Lebanon towards the Israeli border on Wednesday evening, a Lebanese security official told AFP.
"Two rockets were fired, one fell in what was clearly Lebanese territory, the other went towards Israel," the official said on condition of anonymity. It was not immediately clear where the second rocket fell.
Lebanese troops on Monday defused two rockets in the south of the country that were poised for launch towards Israel.
South Lebanon is considered a stronghold of Hezbollah which fought Israel in 2006 . Lebanon and Israel remain officially at war.
Hezbollah leader Hassan Nasrallah pledged on Monday the Lebanese Shiite group's support for the Hamas rulers of Gaza in the face of Israel's air war, insisting it was unaffected by differences over the conflict in Syria.
So far neither Hezbollah nor any other militant group claimed responsibility for the 2 rockets
Source : AFP/AP