Bus explodes in Tel Aviv, wounded at least 10 people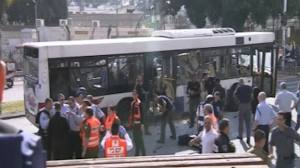 A bomb ripped through an Israeli bus near the nation's military headquarters in Tel Aviv, wounding at least 10 people, Israeli officials said today.
The bus exploded about noon local time Wednesday in one of the city's busiest areas, near the Tel Aviv museum. Police spokesman Micky Rosenfeld said authorities were investigating whether the bomb had been planted and left on the bus or whether it was the work of a suicide bomber.
Overnight, the violence between Israel and the neighboring Gaza Strip continued as Israeli aircraft pounded Gaza with dozens of strikes, hitting government ministries, underground tunnels, a banker's empty villa and a Hamas-linked media office. Gaza health officials said there were no deaths or injuries.
The Israeli Defense Force said they've now destroyed 50 underground rocket launching sites in Gaza. The IDF also said that two rockets were fired from Gaza toward densely populated areas in Israel, but were intercepted by the "Iron Dome" missile shield.
In Gaza at least four strikes within seconds of each other pulverized a complex of government ministries the size of a city block, rattling nearby buildings and shattering windows. Hours later, clouds of acrid dust still hung over the area and smoke still rose from the rubble.
In downtown Gaza City, another strike leveled the empty, two-story home of a well-known banker and buried a police car parked nearby in rubble.
Secretary of State Hillary Clinton met with Palestinian President Abbas in Ramallah early Wednesday to try to help broker a truce between Israel and Hamas in the Gaza Strip to end a week of tit-for-tat missile and rocket fire.
srael and the Hamas militant group seemed to edge closer to a ceasefire Tuesday to end a weeklong Israeli offensive in the Gaza Strip, but after a day of furious diplomatic efforts, a deal remained elusive and fighting raged on both sides of the border.
Israeli officials told ABC News that a window of opportunity for a deal could close, if Hamas refuses to agree to a long-term ceasefire. That ceasefire would be measured in years, not months. Hamas is demanding that Israel loosen its iron grip on Gaza's borders and ease its maritime blockade.
Clinton will also meet with Egyptian President Mohamed Morsi in Cairo later today. The U.S. will not meet with Hamas because it considers it a terrorist group.
On Tuesday, Clinton met with Israeli Prime Minister Benjamin Netanyahu for more than two hours behind closed doors, saying she sought to "de-escalate the situation in Gaza." Clinton hinted it would take some time to finally reach an agreement.
The meeting came amid statements from Hamas earlier in the day that a ceasefire would soon be announced. Netanyahu said he would prefer to use "diplomatic means" to find a solution to the fighting, but that Israel would take "whatever actions necessary" to defend its people.
Clinton relayed a message from President Obama, reinforcing America's commitment to Israel's security and calling for an end to the rockets coming from "terrorist organizations in Gaza."
Clinton added that she would reiterate her message to Morsi when they meet later today.
"President Obama has emphasized the same points in his multiple conversations with President Morsi of Egypt, and we appreciate President Morsi's personal leadership and Egypt's efforts thus far," she said. "As a regional leader and neighbor, Egypt has the opportunity and responsibility to continue playing a crucial and constructive role in this process. I will carry this message to Cairo tomorrow."
The rocket fire between Israel and Hamas, which began seven days ago, has claimed more than 138 Palestinian lives and five Israeli lives. Half the Palestinian deaths were civilians; four of the five Israelis were civilians. A ceasefire, if reached, would bring a halt to the worst violence between Gaza and Israel in four years.
ABC