Nasrallah slams Arabs for arming Syria rebels, but not Gaza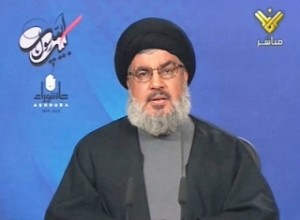 Hezbollah chief Sayyed Hassan Nasrallah slammed on Monday the Arab countries that "are sending arms to Syria rebels but have not sent one bullet to Gaza " and mocked Qatari Prime Minister Sheikh Hamad bin Jassem al-Thani's comments in Cairo.
In a televised speech via video link on the fifth day of Ashura, Nasrallah said Arab nations should be arming Gaza fighters instead of focusing on mediation between it and the Israeli enemy".
Arab FMs met on Saturday at the headquarter of the Arab League in Cairo to discuss the Israeli assaults on Gaza.
Nasrallah said that he wants Hamas to be enabled "to continue to fight Israel and launch missiles into Tel Aviv and Jerusalem and destroy many Israeli military vehicles."
Nasrallah credited Iran and Syria for Hamas' military capabilities
"Iran and Syria's contribution to Gaza are apparent in this domain," he said
Nasrallah  slammed Qatari PM's comment during the Arab FMs' meeting in Cairo , and said "there are still heroes and wolfs among Arabs, and if he considers himself a coward, he should not include the rest of the Arabs in this classification".
Nasrallah said many governments, politicians, and journalists in the region and internationally have turned into coward "sheep" in the last 60 years since Israel's occupation of Palestine, as many of them have let down Palestine and Lebanon, leaving them to face their own destiny with blood.
"Wolfs are going to shape the history of the region, similar to what they have done through their resistance in Lebanon and Gaza," stressed Nasrallah.
The Qatari PM reportedly said "they (the Israelis) are not wolves, but most of us are sheep".
Nasrallah concluded his speech by saying that "Iran, Syria and Hezbollah will not abandon Gaza despite differences of opinion with its leaders. A possible reference to the reports claiming that Israel  is colluding  with Syria in  punishing Hamas for opposing the Syrian regime.
The 20-month uprising in Syria against President Bashar al-Assad's regime has sparked a growing rift between it and Hamas.
The Hamas Movement which runs Gaza quietly moved its offices from Syria and evacuated most of its members as soon as the peaceful demonstrations turned into an armed rebellion. The dispute with the Syrian regime went public when a news presenter on Syrian television accused Hamas politburo chief Khaled Meshaal of having "sold out the Palestinian resistance" after he expressed his support for the Syrian uprising.