Obama tells Edogan he is committed to peace in ME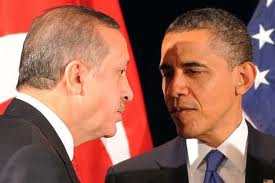 U.S. President Barack Obama and Turkish Prime Minister Recep Tayyip Erdogan had a telephone discussion on Friday about the escalating violence in Gaza andIsrael, the White House said, APA reports quoting Xinhua.
Voicing their concerns on the safety of civilians on both sides, the two leaders called for an end to the violence, according to a statement issued by the White House.
Obama and Erdogan agreed that "the continued spiral of violence jeopardizes prospects for a durable, lasting peace in the region," said the statement, adding that Obama had underscored his commitment to advancing the goal of peace in the Middle East.
Prior to Friday's conversation with Erdogan, Obama talked on the phone with Israeli Prime Minister Benjamin Netanyahu and Egyptian President Mohamed Morsi respectively on Wednesday about the escalating violence in Gaza.
U.S. State Department spokesman Mark Toner said Thursday that Washington has asked Cairo to use its influence with the Palestinians to help calm the violence.
Fighting has escalated between Palestinian militant groups and Israel. Over the past three days, more than 550 rockets launched from Gaza have landed on Israeli territories, most of them targeting communities in southern Israel.
Meanwhile, Israeli forces have been carrying out air strikes on targets in Gaza. Palestinian hospital officials said 23 Palestinians have been killed and more than 250 injured in more than 400 Israeli air strikes all over the Gaza Strip since Wednesday.