Israel Destroys Hamas Prime Minister's Offices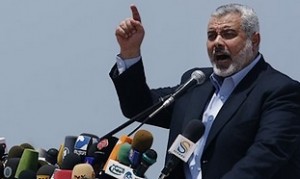 Israel retaliated after Palestinian rocket attacks on Tel Aviv and Jerusalem with airstrikes before dawn Saturday on the Gaza City offices of Prime Minister Ismail Haniya of Hamas — the militant Islamist group that governs Gaza.
The Israeli military said Saturday that it had struck more than 200 targets overnight, including underground rocket launchers and smuggling tunnels in Rafah, on the Gaza-Egypt border.
Along with Mr. Haniya's headquarters, which was destroyed, the Israeli military said that it struck the police and homeland security headquarters of Hamas, as well as the house of a Hamas commander, Ahmed Randor.
Mark Regev, a spokesman for Prime Minister Benjamin Netanyahu of Israel, said government buildings had been targeted because Hamas "makes no distinction between its terrorist military machine and the government structure."
"We have seen Hamas consistently using so-called civilian facilities for the purposes of hiding their terrorist military machine, including weapons," Mr. Regev said.
About 30 rockets were fired from Gaza into southern Israel on Saturday morning, one landing in the yard of a house. Three soldiers were slightly injured by one of the rockets, the Israeli military said.
Hamas said seven of its members were killed Saturday morning in two separate attacks — four in Rafah, and three in the Al Maghazi refugee camp, in the middle of the Gaza Strip. Despite the fighting, Foreign Minister Rafik Abdessalem of Tunisia visited Gaza on Saturday, condemning the Israeli attacks during an appearance at the Al Shifa hospital.
"Israel has to understand that there is an international law and it has to respect the international law to stop the aggression against the Palestinian people," Mr. Abdessalem said, according to The Associated Press.
On Friday, emboldened by displays of Egyptian solidarity and undeterred by Israel's advanced aerial firepower, Palestinian militants under siege in Gaza broadened their rocket targets, aiming at Jerusalem for the first time, sending a second volley screeching toward Tel Aviv and pushing the Israelis closer to a ground invasion.
Israel's government more than doubled the number of army reservists it could call to combat if needed in the increasingly lethal showdown in Gaza with Hamas fighters and their affiliates, after they fired more than 700 rockets into southern Israel over the last year. The escalation has raised fears of a new chapter of war in the intractable Arab-Israeli conflict.
The Israeli military closed some roads adjacent to Gaza in anticipation of a possible infantry move into the territory, which would be the first Israeli military presence on the ground in Gaza since the three-week invasion of 2008-9.
Ghazi Hamad, the Hamas deputy foreign minister, said Saturday that the Tunisian foreign minister's visit, following the visit Friday by the Egyptian prime minister, showed that "we as Palestinians are not alone."
"All Arab nations are with us and against the occupation," Mr. Hamad said. "This will give a strong message to the international community."
Asked about the possibility of a cease-fire agreement, Mr. Hamad said Israel would have to agree to cancel the buffer zone, a strip of land almost 1,000 feet wide along the northern and eastern Gaza borders where Israel does not allow people to go; those who enter can be shot.
The attacks on Hamas government buildings, Mr. Hamad said, are "a policy of Israel to put pressure on people" but would not significantly change the dynamic of the current fighting.
"Israel has the capacity to destroy all buildings in Gaza, all homes," he said. "But this is against humanity.
"They destroyed our government buildings before many times, but we rebuild again," he added. "It's a long struggle, a long story. It will not stop today or tomorrow."
Many residents of Jerusalem, which Israel claims as its capital despite objections from the city's large Palestinian population and others throughout the Middle East, were startled Friday when wartime sirens warning of impending danger sounded at dusk, followed by at least two dull thuds. Hamas's military wing claimed in a statement that they were rockets fired from Gaza, 48 miles away, and had been meant to hit the Israeli Parliament.
The police said one rocket crashed harmlessly in an open area near an Israeli settlement south of Jerusalem. It was unclear where the others landed, but no damage or injuries were reported.
Earlier in Tel Aviv, 40 miles from the Gaza border, air-raid sirens wailed for a second day as a rocket fired from the territory approached. A police spokesman, Micky Rosenfeld, said it apparently fell into the Mediterranean.
Although the rockets missed their intended targets, the launchings aimed at Jerusalem and Tel Aviv, the two biggest population centers, underscored the ability and willingness of Hamas rocket teams to target Israeli or Israeli-occupied areas that up until the past few days had been thought relatively immune.
"We are sending a short and simple message: There is no security for any Zionist or any single inch of Palestine and we plan more surprises," Abu Obeida, a spokesman for the military wing of Hamas, said in a message reported by news agencies.
Even Saddam Hussein, during the Persian Gulf war in 1991, avoided targeting Jerusalem when he aimed Scud missiles at Israel, not wishing to inadvertently destroy Muslim shrines or hit Arab neighborhoods.
Despite three days of repeated Israeli aerial assaults on suspected stockpiles of rockets in Gaza, the Israeli military said more than 100 rockets were fired into Israel on Friday, apparently including Iranian-made Fajr-5 projectiles that Israeli officials say are the only ones in the Hamas arsenal with a range that can reach Tel Aviv or Jerusalem.
Hamas contended that it had produced those rockets, which the group called M75s, referring to a range of 75 kilometers or about 47 miles. Israeli munitions experts said they had not heard of that weapon.
Regardless, the rocket barrage caused widespread panic and damage. It also shattered plans for a temporary cease-fire during an unprecedented trip to Gaza by the Egyptian prime minister, Hesham Qandil, a visit that illustrated the shifting dynamics of Middle East politics since the turmoil of the Arab Spring uprisings began nearly two years ago. Under Egypt's last president, Hosni Mubarak, regarded by Israel as an important strategic ally, any relationship with Hamas would have been unthinkable.
"The time in which the Israeli occupation does whatever it wants in Gaza is gone," Mr. Haniya, the Hamas prime minister, said in a meeting with Mr. Qandil.
The persistent ability of Hamas to keep firing missiles at Israel appeared to weigh heavily in the Israeli military's calculations about a ground invasion. Mr. Netanyahu said the army was "continuing to hit Hamas hard and is ready to expand the operation into Gaza." Israeli television later reported that Defense Minister Ehud Barak had authorized the military to call up 75,000 reservists if necessary — more than double the 30,000 authorized Thursday.
No Israelis were reported killed in the rocket attacks on Friday, leaving the reported death toll on Israel's side at three civilians. The number of Palestinians killed so far has risen to at least 39, Gaza health officials said, underscoring what critics of Israeli policy called Israel's disproportionate use of military force. Israeli leaders have said they are selectively targeting militants in the Gaza attacks, and they accuse Hamas of installing rocket batteries in civilian areas.
The Israeli military said Friday night that it had killed Muhammad Abu Jalal, a Hamas company commander in Gaza, and Khaled Shaer, who was involved in rocket development. A military spokesman said that earlier in the day, the Israel Defense Forces had sent text messages to about 12,000 Gaza residents warning them to stay away from Hamas operatives.
In addition, the military said it had crippled Hamas's burgeoning drone capabilities after striking a number of sites. Hamas, it said, had been developing unmanned aerial vehicles for use as another means of striking Israel.
At the four-story headquarters of Mr. Haniya, where weekly cabinet meetings were once held, a huge pile of rubble stood Saturday as testimony to the 4 a.m. barrage. Three Palestinian flags that used to hang over the entryway instead draped onto the dusty mess, their poles nearly perpendicular to the ground.
Amid the rubble were datebooks and personnel records. A copy of the official Palestinian book of laws had singed pages. Mr. Haniya's gray-bearded face beamed from one page in Hamas's signature green: the cover of a 2008 booklet declaring "the government's achievements despite the obstacles."
Just before 10 a.m., a security official who asked to be identified only as Abu el-Abed took one of the fallen flags and replanted it upright.
"We will rebuild this place as we have rebuilt others," he said. "Every structure that is demolished or destroyed is a big loss. But the blood of anybody wounded is more important than any structure. This place will be rebuilt and the occupation will go and we will stay."