Petraeus testifies that Benghazi attack was terrorist act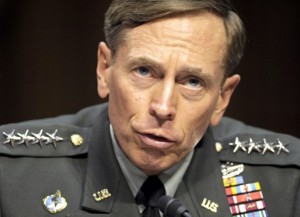 After avoiding a swarm of awaiting reporters and photographers, former CIA director David Petraeus testified behind closed doors Friday that he believes the Sept. 11 attacks on a U.S. diplomatic outpost in Benghazi, Libya was an act of terrorism that did not arise out of a spontaneous demonstration, according to a lawmaker who heard the testimony.
"He now clearly believes that it [the Sept. 11 attacks] did not arise out of a demonstration, that it was not spontaneous and it was clear terrorist involvement," Rep. Peter King (R-N.Y.) said.
Lawmakers who attended private hearings of the House and Senate intelligence committees said Petraeus did not discuss and was not asked about his extramarital affair with his biographer, Paula Broadwell.
"It was made clear at the start that would not be a focus of the questioning," King told reporters, adding that Petraeus told lawmakers that his affairs and resignation had no effect on his testimony.
With Petraeus focused squarely on his understanding of the Libya attack, lawmakers said he was instructive, but provided just one element of an ongoing probe into what caused the deaths of four Americans, including Ambassador J. Christopher Stevens.
"We're learning a lot, but we have in my opinion not come to a point where we can draw a firm conclusion as to exactly what happened," Senate Intelligence Committee Chairwoman Dianne Feinstein (D-Calif.) told reporters after the hearings.
Sen. John McCain (R-Ariz.) called the former general's testimony "comprehensive, I think it was important, it added to our ability to make judgments about what is clearly a failure of intelligence. He described his actions and that of his agency, their interaction with other agencies and I appreciate his service and his candor."
But Sen. Marco Rubio (R-Fla.) said Petraeus's comments highlighted lingering concerns about how the State Department responded to requests for additional security at the Benghazi compound.
"I think that's what the growing amount of inquiries should be about in the days to come," Rubio said.
The retired four-star military general and spy chief was not seen by reporters as he arrived early Friday to meet with the House and Senate panels committees nor when he concluded his testimony more than four hours later. The hearings occurred in separate secret briefing rooms three floors underground in the U.S. Capitol Visitors Center. Access to the area was restricted by U.S. Capitol Police.
Feinstein later told reporters that lawmakers sought to shield Petraeus from the media scrum: "We didn't want to make it any more difficult for him. And, you know, you people aren't always the easiest. You can blame it on us. We wanted to spare him that."
Petraeus gave a 20-minute opening statement to the House panel and took about 70 minutes of questions, according to King, who said that Petraeus testified Friday that the CIA gave the White House and U.N. Ambassador Susan Rice information on the Benghazi attack that differed from Rice's public comments on the incident. Some senior lawmakers, including Sens. John McCain (R-Ariz.) and Lindsay Graham (R-S.C.), have criticized Rice's actions, but President Obama, believed to be considering her for secretary of state, has strongly defended her.
Feinstein also rose to Rice's defense, saying that the ambassador was using talking points based on the best available intelligence just days after the attack.
"They were unclassified talking points at a very early stage," Feinstein said. "I don't think she should be pilloried for this. She did what I would have done, or anyone else would have done that was going on a weekend show. We would have said, 'What talking points can I use?' and you'd get an unclassified version."
Petraeus's testimony before the panels comes one week after he resigned as CIA director after admitting to an extramarital affair with Broadwell. He agreed to testify this week behind closed doors after lawmakers said they still wanted to hear from him about the attack.
Rep. C.W. Bill Young (R-Fla.), a member of the House panel, suggested to reporters that he was frustrated by some of Petraeus's answers, but he and other lawmakers expressed sustained support for the former director: "I have a lot of trust and respect for the man, he served this nation well."
Washington Post