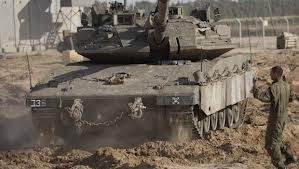 Israel seemed to be preparing to step up its military operation against Hamas militants in the Gaza Strip on Friday, as air raid sirens wailed in Jerusalem and Tel Aviv and media reported another rocket had fallen near the Tel Aviv.
CBS News correspondent Allen Pizzey and his team were forced by the Israeli military — along with other news crews — to move away from the border with the Gaza Strip on Friday morning, another signal pointing to a possible ground incursion into the tiny Palestinian territory.
Pizzey reports that as dawn broke in the Israeli town of Sderot, on the Gaza border, the extent of the force massed along the frontier made it clear Israel was preparing for a ground fight — 16,000 Israeli reservists were called up on Thursday. The last invasion was four years ago, and analysts say Hamas will be better prepared this time.
For the first time in the three days of intense clashes, air raid sirens sounded in Jerusalem on Friday. Hamas claimed to have fired three rockets on the Israeli capital, and Israeli radio reported that one rocket had landed outside the city, causing no damage. Nonetheless, the attack marks a significant turn in the conflict — a rocket has never hit the heart of Jerusalem.
"A rocket fired from Gaza struck outside Jerusalem, Israel's capital city," the Israeli Defense Forces said in a Tweet. Some Iranian-made Fajr rockets, which have been used by Hamas this week to target Tel Aviv, are believed to fly far enough to bring Jerusalem into range from the Gaza Strip.
Former U.S. envoy to the Middle East, George Mitchell, told "CBS This Morning" the biggest danger to Israel in the current clashes was that they could draw in Hezbollah – a group backed by and present in Iran. Hezbollah has superior firepower to Hamas, and Mitchell says the group could hit almost anywhere inside Israel.
Earlier Friday, hopes for a three-hour ceasefire were dashed when Israel said its air force had bombed the house of a Hamas commander in the Gaza Strip after militants fired more than a dozen rockets toward southern Israel during a brief visit by Egypt's premier to the Palestinian territory.
Israel had agreed to halt it's three-day assault on Hamas in the Gaza Strip if militants refrained from firing rockets at Israel. It would have been the first break in the escalating conflict.
"Hamas does not respect the Egyptian prime minister's visit to Gaza and violates the temporary ceasefire that Israel agreed to during the visit," Ofir Gendelman, a spokesman for the Israeli Prime Minister wrote on Twitter, according to Reuters.
An official in Netanyahu's office said the ceasefire had been agreed to after a request from Egypt.
Israel told the Egyptians the military "would hold its fire on the condition that during that period, there won't be hostile fire from Gaza into Israel," the official said. "Prime Minister Netanyahu is committed to the peace treaty with Egypt, which is in the strategic interest of both countries, he added, speaking on condition of anonymity to discuss the diplomatic exchange.
It wasn't clear whether Israel had hoped to use the possible suspension of hostilities to seek a broader truce or had agreeing to the halt in fighting only as a gesture to Egypt.
Three days of fierce fighting between Israel and Gaza militants has widened the instability gripping the region, straining already frayed Israel-Egypt relations. The Cairo government recalled its ambassador in protest and sent its prime minister, Kandil, to Gaza in a show of solidarity with the Palestinian territory's militant Hamas rulers.
Egyptian Prime Minister Hesham Kandil crossed into Gaza before midday through the only border post with Egypt, heavily guarded by Egyptian security personnel wearing flak jackets and carrying assault rifles. He was greeted by Gaza's Hamas prime minister, Ismail Haniyeh, who ventured out in public for the first time since Israel launched the offensive Wednesday by assassinating the militant group's military commander.
Egyptian intelligence officials involved in negotiations to end previous rounds of fighting accompanied Kandil on his visit, an Egyptian diplomat said, suggesting it was more than a display of support.
Watch: White House reacts to Israel's Gaza operation
3 Israelis killed in rocket fire from Gaza
Egypt asks U.S. to stop Israel operation against Hamas in Gaza
The very brief pause in the fighting was shattered after a night of fierce exchanges and signals that Israel might be preparing to invade Gaza. Overnight, the military said it targeted about 150 of the sites Gaza gunmen use to fire rockets at Israel, as well as ammunition warehouses, bringing to 450 the number of sites struck since the operation began Wednesday.
Pizzey reported Thursday that Israeli troops, tanks and armored personnel carriers had begun massing near the Gaza border — signaling a possible ground invasion.
Militants unleashed dozens of rocket barrages overnight.
Fighting between the two sides escalated sharply Thursday with a first-ever rocket attack from Gaza on the Tel Aviv area, menacing Israel's most densely populated area. Pizzey said at least two rockets hit in the Tel Aviv area on Thursday, but no casualties were reported. Three people died in the country's rocket-scarred south, however, when a projectile slammed into an apartment building earlier in the day.
CBS News' Michal Ben-Gal reports that Jerusalem was also put on high alert Friday morning, with many police deployed in the city's predominantly Arab eastern side to prevent clashes after the Islamic Friday prayers.
The death toll in Gaza climbed to at least 20 on Friday, including five children, according to Palestinian health officials, as waves of Israeli fighter planes and drones sent missiles hurtling down on suspected weapons stores and rocket-launching sites.
Israel and Hamas had largely observed an informal truce since Israel's devastating incursion into Gaza four years ago, but rocket fire and Israeli airstrikes on militant operations continued sporadically. The latest flare-up exploded into major violence Wednesday when Israel assassinated Hamas' military chief, following up with a punishing air assault meant to cripple the militants' ability to terrorize Israel with rockets.
A new Israeli ground offensive could be costly to both sides. In the last Gaza war, Israel devastated parts of the territory, setting back Hamas' fighting capabilities but also paying the price of increasing diplomatic isolation because of a civilian death toll numbering in the hundreds.
The current round of fighting is reminiscent of the first days of that three-week offensive against Hamas. Israel also caught Hamas off guard then with a barrage of missile strikes and threatened to follow up with a ground offensive.
Much has changed since then.
Israel has improved its missile defense systems, but it is facing a more heavily armed Hamas. Israel estimates the militants have 12,000 rockets, including more sophisticated weapons from Iran and from Libyan stockpiles plundered after the fall of Muammar Qaddafi's regime there last year.
Also, regional alignments have changed dramatically since the last Gaza war. Hamas has emerged from its political isolation as its parent movement, the region-wide Muslim Brotherhood, has risen to power in several countries in the wake of last year's Arab uprisings, particularly in Egypt.
At the same time, while relations with Israel have cooled since the toppling of longtime Egyptian leader Hosni Mubarak, Islamist President Mohammed Morsi has not brought a radical change in Egypt's policy toward Israel. He has promised to abide by Egypt's 1979 peace deal with Israel and his government has continued contacts with Israel through its non-Brotherhood members.
CBS