Riots Erupt Across Jordan Over Gas Prices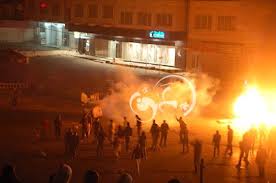 Violent protests broke out across Jordan on Tuesday night after the government announced an increase in fuel prices, inciting what appeared to be an unparalleled show of anger directed at the king after months of mounting tension in the strategically important and politically fragile kingdom.
Demonstrators burned tires, smashed traffic lights and blocked roads in several Jordanian cities. Riot police officers tried to quell some of the crowds with tear gas. There were calls for a general strike on Wednesday.
In Dhiban, a city of 15,000 south of the capital, Amman, protesters burned pictures of King Abdullah II, witnesses said. In Salt, which has been a site of popular discontent, protesters destroyed two cars outside the prime minister's home, which was empty. And in Amman, thousands of demonstrators filled the circle outside the Interior Ministry near midnight, chanting, "The people want the fall of the regime," echoing similar chants in Egypt and Tunisia, where the Arab Spring began.
"The anger and frustration from the people is at its peak all over the kingship," Murad Adailah, a member of the Muslim Brotherhood's political wing, Islamic Action Front, said from outside the Interior Ministry. "This is unprecedented. The level of the slogans are the highest. This is the highest peak of tension that I've seen since the beginning of the Arab Spring."
The eruption comes as King Abdullah has struggled to contain a growing and increasingly diverse opposition by introducing electoral reforms ahead of balloting scheduled for January and by establishing a constitutional court.
Critics have rejected these initiatives as half steps — they complain that the court, for example, is neutered because the king appoints its judges — and the monarchy has jailed dozens of activists on charges including incitement to change the Constitution and to overthrow the government, which can carry the death penalty. In October, the king dissolved Parliament and appointed Jordan's fourth prime minister in a year.
Facing a $3 billion deficit, attributed largely to the disappearance of financial aid from gulf states, the government tried to reduce fuel subsidies — effectively raising prices — by 10 percent in September, only to reverse itself a day later after thousands took to the streets. Late Tuesday, the cabinet again announced a drop in subsidies that would result in increases of 14 percent on prices at the pump and more than 50 percent in gas used for cooking, leading to what Mr. Adailah said were more than 100 demonstrations across the kingdom.
Jordan is an important ally of the United States, helping to preserve its peace treaty with Israel and offering crucial intelligence support in Iraq and on terrorism. But its stability has long been precarious, with its population of six million divided between Palestinian refugees and natives, known as East Bankers, and frequent spillover from the fighting across its borders in Iraq and Syria.
About 200,000 refugees from the civil war in Syria have flooded into the country in recent months, further taxing economic and natural resources. Jordan's divisions had for some time shielded it from the kind of unified opposition that brought down leaders in Egypt and Tunisia, but now, activists are saying, frustration has become a unifying force.
Nathan Thrall, an analyst with the International Crisis Group, a research organization that works to prevent conflicts, said that when the Arab Spring revolutions began in Tunisia, Libya and Egypt, he considered the chance of something similar happening in Jordan to be remote. Now, Mr. Thrall said, he and other experts see it as far more likely, if still a long shot.
"If people realize that things will develop in a negative way and they will not be able to make ends meet, they will take matters into their own hands," said Labib Kamhawi, a political activist and analyst who is scheduled to appear in court this month on charges of sedition, defamation, threatening national unity and disrespecting government institutions, based on comments he made on television in July. "As things become more crucial and more challenging for the regime, the measures used will be tougher and more sinister."
Zaki Bani Irsheid, vice chairman of the Muslim Brotherhood, long Jordan's leading opposition force, said in an interview before the latest flare of discontent that throughout the past two years his faction had expanded alliances with the extremists known as Salafists, unions and the loose-knit, largely secular protest movement known as the Hirak.
"Is the regime waiting for an explosion in Jordan so his end will be like the Egyptian end or the Tunisian end?" Mr. Irsheid asked, referring to the king. "We are insisting on creating the Jordanian spring with a Jordanian flavor, which means reforming our regime and keeping our Hirak peaceful."
Samih al-Maitah, Jordan's minister of information — also speaking before gas-price protests broke out — made a parallel argument. "The Arab Spring is not one model, it's not Mubarak in prison," he said, referring to Hosni Mubarak, the deposed Egyptian president. "The Arab Spring gave us the opportunity to reform in Jordan. There were changes in the Constitution, new legislative laws and new elections that will open up the door for something more. There is success. Maybe not enough; we'll always want more."
Among the new laws was one passed in September that the government said was needed to organize Jordan's robust online news industry, but that critics see as a crackdown on expression. The law requires Jordan's more than 400 news sites to register with the government, hire a member of the journalists' union as an editor, and keep reader comments on their servers for six months so they can be reviewed by the intelligence service. It also allows for lawsuits against both those who write comments and multiple editors for the content of the comments, which has led a dozen of the most independent sites to block reader feedback in recent weeks in protest.
"The comments give a spirit and soul to our articles, and some of them give very vital and important information," said Basil Okoor, who runs one of the sites, jo24.net, and heads a group of 60 of them fighting the law. "It is a barometer. It could be a way to start to understand people, what makes them tick, and this is all in danger."
Mr. Maitah, the information minister, said the online news industry had been "good for Jordan," but that the law was needed "to give it support for its ethics and its professionalism and to institutionalize it," particularly because "people were using comments to insult people."
But a coalition of unions, political organizations and civil society groups that formed this fall denounced the law as an "outcast" that "puts Jordan on the list of authoritarian states that are hostile to Internet freedoms."
Fadi Masamreh, 23, who reports on demonstrations for another of the news sites, Khabarjo, was arrested Sept. 12 at a sit-in at the Interior Ministry, and released along with 19 others on Oct. 24. The charges against him — cursing the king, gathering illegally, inciting against the Constitution and the government — are pending.
"The people will not be quiet," he said in an interview a few days after his release. "Those who want to fight for change have to present sacrifices. If my arrest will be invested toward this change, I have no problem being in prison again 43 years, not 43 days."
NY Times