Geagea: Berri can be the next speaker if he joins March 14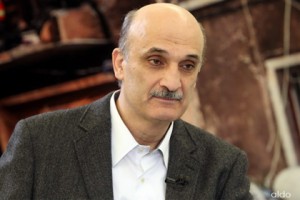 Lebanese Forces leader Samir Geagea called on Speaker Nabih Berri to join the March 14 alliance who will then elect him as the next speaker after winning the next parliamentary elections, stressing that his personal relationship with him is good.
Geagea reaffirmed his earlier predictions that March 14 will win the upcoming 2013 parliamentary elections and will be in a position to elect the President of the Republic, the Speaker and the Prime Minister .
In response to Hezbollah chief's Monday speech Geagea said that dialogue is not possible with MPs Michel Aoun and Suleiman Franjieh and said that the latter (Franjieh) and Defense Minister Fayez Ghosn are part of a team of assassins in the government of killers.
Geagea told Sayyed Hassan Nasrallah , Aoun may have been the undisputed Christian leader at some point but no more according to the most recent polls.
Nasrallah attacked March 14 Christians yesterday and accused them of seeking to stir up a sectarian strife in Lebanon between the Sunnis and the Shiites.
Geagea made the comments during a meeting in Maarab with a delegation from the Lebanese University, headed by Dr. Amer Mashmoushi