Hariri, Pope Benedict discuss ME peace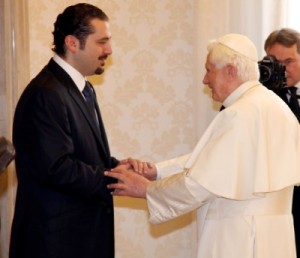 Former Lebanese Prime Minister and Future Movement leader MP Saad Hariri met Wednesday with Pope Benedict XVI at The Vatican for talks on recent developments in the region, including Syria , according to a statement by Hariri's press office.
"Talks tackled the latest developments in the region and the importance of exerting all possible efforts to achieve peace in the region," the statement stated and added:" The Lebanese leader reviewed with the Holy See the "possible efforts that can be made to achieve peace in the region."
The meeting was attended by Lebanon's Ambassador to the Vatican Georges Khoury, Hariri's Chief of Staff Nader Hariri and his adviser Daoud al-Sayegh.
According to the statement, Hariri thanked the pope for his visit to Lebanon and apologized for not being there to welcome him. He also thanked him for his support for Lebanon and its coexistence formula.
The pope visited Lebanon last September, bringing a message of peace and hope with him.
In another development , Hariri's press office denied Wednesday a local media report that the former PM had contacted Prime Minister Najib Mikati to discuss the situation in the southern city of Sidon. The denial follows a report by Lebanon's As-Safir newspaper which said that Hariri had contacted Mikati to discuss Sidon's situation after deadly clashes erupted over the weekend between supporters of Hezbollah and Sheikh Ahmad Assir.