MP: Bassil violates the law every day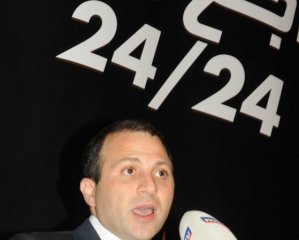 Lebanese opposition MP Mohammad Qabbani criticized Energy Minister Gebran Bassil for seeking to obtain an authorization from the cabinet to negotiate with international companies seeking to invest in Lebanon's energy sector, saying the minister was violating laws.
"Bassil violates the law every day and this is nothing new. Up until now he is refusing to form the committee that organizes the electricity production sector in line with the 'electricity constitution' i.e. Law 462 issued in 2002," Qabbani told Akhbar al-Yawm news agency on Wednesday.
Qabbani added that the aforementioned law and Law 181 stipulate that an electricity committee is the only body authorized "to give out licenses to produce electricity."
In a related development Al-Jumhuriya newspaper on Wednesday cited an unnamed source as saying: "After around two years spent in the cabinet to approve Law 181 and two years of biddings, which led to choosing a Spanish firm, Abener , for building the Deir Ammar power plant, Bassil is seeking to go back to square one."
Now Lebanon
Photo: Gebran Bassil spent most of his budget advertising 24/24 electricity when he was appointed as the energy minister but Lebanon has since been experiencing unprecedented power rationing and blackouts