World leaders hail Obama victory, pledge cooperation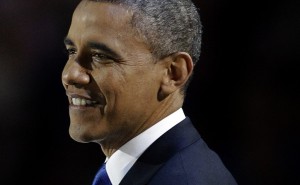 World leaders on Wednesday hailed President Barack Obama's sweeping re-election, with allies pledging to deepen cooperation with the United States on fighting the world economic slump and maintaining security across the globe.
Congratulations poured in from across the world, including fellow UN Security Council members Britain, China, France and Russia as well as its staunch Middle East ally Israel and Obama's ancestral home in Kenya.
Russian President Vladimir Putin, whose relations with Washington have often been frosty, sent a telegram congratulating Obama on his victory over Republican challenger Mitt Romney.
"We hope that the positive beginnings that have taken hold in Russian-US relations on the world arena will grow in the interests of international security and stability," Russian news agencies quoted Putin's spokesman Dmitry Peskov as saying.
Moscow is ready to "go as far as the US administration is willing to go," Foreign Minister Sergei Lavrov was quoted as saying by the RIA Novosti news agency.
Chinese President Hu Jintao, who himself is handing over power at a Communist Party congress starting this week, noted "positive progress" in Sino-US relations over the past four years despite tensions over issues such as trade and territorial disputes involving US allies.
China will "look to the future and make continuous efforts for fresh and greater progress in the building of the China-US cooperative partnership," foreign ministry spokesman Hong Lei told reporters.
Afghan President Hamid Karzai congratulated Obama, saying he hoped his re-election would lead to "further-expanded" relations, although reaction on the streets of the war-torn nation was muted.
Pakistani President Asif Ali Zardari said he was confident relations with the United States would "continue to prosper".
Pakistan is a key ally in the US "war on terror" but relations over the past two years have grown fraught, especially after last year's US killing of Osama bin Laden in Pakistan and botched air strikes.
Israeli Prime Minister Benjamin Netanyahu, whose relationship with Obama has at times appeared tense, also joined the well wishers.
"I will continue to work with President Obama to ensure the vital security interests of Israel and the United States," said Netanyahu, who had appeared to throw his support behind Romney during the election campaign.
Elsewhere in the Middle East, Palestinian president Mahmud Abbas urged the US leader to pursue peace efforts while Palestinian negotiator Saeb Erakat said he hoped Obama's re-election would mean the creation of a Palestinian state in the next four years.
Direct talks between Israel and the Palestinians have been on hold since September 2010.
Iran, facing Western pressure particularly from the US and arch foe Israel over its nuclear drive, has yet to comment on Obama's win.
"There are so many things that we need to do: We need to kickstart the world economy and I want to see an EU-US trade deal," Cameron said.
German Chancellor Angela Merkel wrote to Obama saying she looked forward to continuing cooperation "so both our countries can continue to stand side-by-side to contend with the important foreign policy and economic challenges that we face as friends and allies".
Sarah Obama Her message was echoed by European Union President Herman Van Rompuy, Commission President Jose Manuel Barroso and French President Francois Hollande.
Hollande said Obama's re-election is a "clear choice for an open, united America that is totally engaged on the international scene".
The Dalai Lama wrote to Obama, saying the president had worked hard "to to live up to that great hope and trust placed in you by the American public."
"I believe you have been re-elected now in recognition of that effort," the Tibetan Buddhist spiritual leader said.
South African President Jacob Zuma urged the United State to continue playing a positive role in Africa, saying "we value our relations with the United States and look forward to strengthening bilateral cooperation in the years to come."
Egypt's Islamist President Mohamed Morsi also hailed the win, saying he hoped it would strengthen the "friendship between the two countries".
In Muslim majority Malaysia, Prime Minister Najib Razak urged Obama to continue to foster understanding and respect between the United States and Muslims worldwide.
And Turkish President Abdullah Gul said the bonds between Turkey and the United States were strengthened during Obama's first term.
"We are determined to maintain the positive atmosphere in our relationship and our model partnership in every sphere," Gul said.
AFP