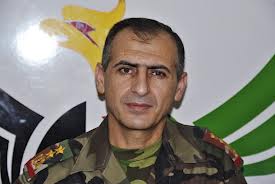 The Free Syrian Army Joint Command spokesman and commander in central Homs province, Colonel Kassem Saadeddine, said in a video posted on Wednesday that he had escaped an assassination attempt by forces loyal to Syrian President Bashar al-Assad.
"Thanks be to God, we have returned after having escaped from the hands of Assad's bands," Saadeddine , who shifted his headquarters from Turkey to inside Syria said
In a statement accompanied by a video the FSA Joint Command said Saadeddine had been ambushed by pro-regime militia forces, known as "shabeeha" by the opposition, in an assassination attempt.
It said the colonel's driver was lightly wounded in the attack, but no one among rebel forces was killed, and provided no further details.
Dawn.com