Bahrain says bomb attacks show hand of Hezbollah
Five home-made bombs that killed two people in Bahrain on Monday bore the hallmarks of Hezbollah, the Lebanese militant group allied with Iran, the U.S.-aligned government said on Tuesday.
The Sunni Muslim-dominated government has been struggling since early last year to suppress pro-democracy unrest led mainly by the Gulf Arab kingdom's majority Shi'ite Muslims.
The official Bahrain News Agency quoted Information Minister Samira Ibrahim bin Rajab as saying the bombings were staged by terrorist groups trained outside Bahrain and based in countries including Lebanon.
She said the groups were operating under principles set by Iranian Supreme Leader Ayatollah Ali Khamenei and that 19 pro-Iran satellite media channels were inciting their supporters in Bahrain to subvert the government.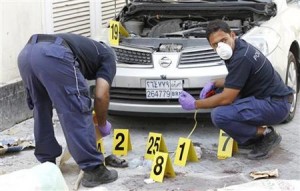 The five blasts in the capital Manama on Monday killed two street cleaners and wounded another, according to state media. The Interior Ministry described the blasts as "terrorist acts", its term for violence by opposition activists.
But an opposition politician and a human rights activist said that the attacks, which came a few days after the government banned opposition gatherings with the stated goal of ensuring public safety, could have been the work of government forces trying to justify the clampdown.
The government has repeatedly accused Shi'ite Iran of fomenting the turmoil, a charge the Islamic Republic denies. Hezbollah also denies involvement in the Bahrain protests, but has criticized the government's handling of them.
Bahraini police say they have been the target of numerous attacks with homemade bombs since April, including one that killed a policeman last month.