Aoun blames Hassan for his own death
Change and Reform bloc leader MP Michel Aoun said that Internal Security Forces Intelligence chief Wissam al-Hassan was responsible for his assassination.
"Hassan is responsible for his own assassination, because he took security measures that only he knew about," Aoun said in a press conference following his bloc's weekly meeting.
Aoun also slammed the March 14 coalition for boycotting the cabinet and the dialogue sessions following Hassan's assassination, and accused them of "paralyzing the country."
"They say that Lebanon is in danger, but in fact the situation in Lebanon is not worse than that in France… they should [stop] their boycott, otherwise, they will bear responsibility if the parliament does not agree on an electoral law," he said.
The March 14-led alliance has been demanding the resignation of the government since the assassination of Internal Security Forces Intelligence chief on October 19 in Beirut's Ashrafiyeh district. March 14 blamed the government, of covering up the crime and announced its boycott of all government-related activity, including the national dialogue, until its demands are met.
Aoun also revealed that he filed a lawsuit against several media outlets over reports discounting his claim that he was the target of an assassination attempt. Aoun revealed that he sued Future TV, LBC and MTV as well as local newspapers such as An-Nahar, Ad-Diyar, Al-Mustaqbal and Al-Liwaa for publishing security reports denying that his convoy came under fire. He also revealed that he sued the Lebanese Forces website.
In September, Aoun claimed that his convoy came under fire in the southern city of Sidon while returning from a tour in Jezzine, but the media reports decried his claim and proved it was a fabrication.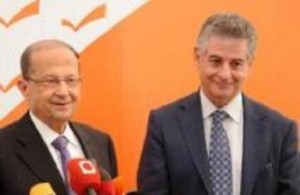 According to analysts Aoun never forgave Hassan for arresting senior FPM official Fayez Karam over spying for Israel and wanted to fire him as soon as he and Hezbollah took control of the cabinet.
Big Lie and a joke
Commenting on the attempted assassinations former Intelligence chief ambassador Johnny Abdo said :
"The attempted assassination of Lebanese forces leader Samir Geagea was for real and a very serious matter, the same with the attempt on Boutros Harb's life we have all the proof , but FPM Michel Aoun's claim of attempted assassination in Sidon was a big lie and a joke."