SNC accuses US of undermining Syria's revolution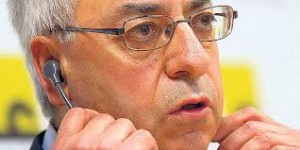 Syrian main exiled opposition group on Friday accused Washington of undermining the country's revolution by seeking to overhaul how regime opponents are organised.
Two days ahead of key opposition talks due in Qatar, the Syrian National Council lashed out at US criticism of the group for not being fully representative of Syria's diverse dissident groups.
"Any discussions aimed at passing over the Syrian National Council or at creating new bodies to replace it are an attempt to undermine the Syrian revolution by sowing the seeds of division," the SNC said in a statement.
US Secretary of State Hillary Clinton voiced frustration with the SNC this week, calling for a new more expansive opposition that would include more activists from inside Syria.
"There has to be a representation of those who are on the front line fighting and dying today to obtain their freedom," Clinton said during a tour of the Balkans, insisting the SNC "can no longer be viewed as the visible leader of the opposition."
Talk of an overhaul "is a sign of a lack of seriousness of the forces meant to support the Syrian people who are facing the murderous regime" of President Bashar al-Assad, the SNC said.
Reacting to accusations it is not inclusive, the group said it had grown from 280 to 420 members, that a third of its members are on-the-ground activists and that 15 percent of its members are women.
The SNC said on Thursday it had received $40.4 million (31.1 million euros) in international aid since it was set up a year ago, half of which came from Libya and the rest mainly from Qatar and the United Arab Emirates.
Washington has accused the SNC of failing to unite the resistance to Assad's regime beyond a small group of Syrian exiles, some of whom Clinton said have not set foot in their homeland "for 20, 30 or 40 years".
Clinton also warned of radical Islamists trying to "hijack" the revolution, prompting SNC chief Abdel Basset Sayda to blame the international community's failure to act for the rise in extremist sentiment.
AFP